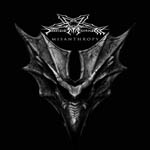 Pagan Records – 2012 – Poland
Last year I listened and reviewed this bands promo in Extreminal. I remember that I said good words about band. Pandemonium is an old band that formed in 1990 and released lots of stuff. Misanthropy is their fourth full-length album.
Bands genre is black metal with death metal influences, but generally you hear black metal in songs atmosphere. Some reviewers think that their music sounds like Behemoth, I don't think so. My opinion is their music is original. Songs are generally in mid-paced tempo and dark.
I can recommend this album to blackened death metal and black metal fans.
9/10