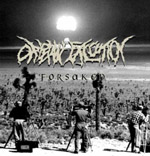 Self-released – 2013 – Germany
Recently the German band ORPHAN EXECUTION put their debut EP "Forsaken" on the market in in-house production.
You can hear here Death Metal with some Metalcore speckles. Very melodic riffs which are nevertheless hard and have punch unite with forceful bass lines to a musical base frame which definitely goes forwatds. While adding of powerful drums which gives the main points develop five songs which are hateful and full of life. The interaction of two vocalists gives the production additional energy and emphasis. The divergence of brutality and severity on the one hand and melodies on the other hand is worked out here very well and modified. The listener is carried away at "Forsaken" and receives an additional adrenalin rush. Technical impeccable and very dedicated recorded I can only recommend ORPHAN EXECUTION!!!