The Ukrainian atmospheric death-doom band Odradek Room has signed a deal with Hypnotic Dirge Records to release their upcoming debut full-length album Бардо. Относительная реальность (English translation: Bardo Relative Reality) in early 2013 in digipack format.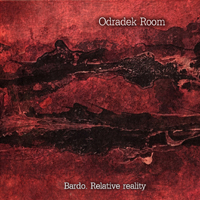 Odradek Room was formed initally under the name "Осколки Тишины" / "Shards of Silence" in 2008. In 2010, Odradek Room made their first apperance on a release participating in the doom-metal.ru compilation project.
Their first full-length album, Бардо. Относительная реальность was initially recorded in early 2012 and self-released in digital format. However, it was later decided that the album would be re-recorded to fix up a few issues in the recordings, and that process is now complete. The upcoming album, based on the ideas of the Tibetan Book of the Dead and surreal images of the subliminal consciousness is now prepared for a release in early 2013, but in the meantime, the track Театр форм (English translation: Theatre of Forms), the opening track from the new album has been made available for streaming and download on bandcamp, soundcloud, and youtube. This track is a perfect representation of Odradek Room's ability to incorporate both the agressive and melancholic sides of death-doom combining slow plodding riffs, soaring melodies, post-rock leanings, and a progressive touch.
Odardek Room is:
Artyom Krikhtenko – vocals, guitars, keyboards, sampling
Sergey Kuznetsov – bass, keyboards, sampling
Roman Borovikov – drums
Ilya Zernitsky – guitars