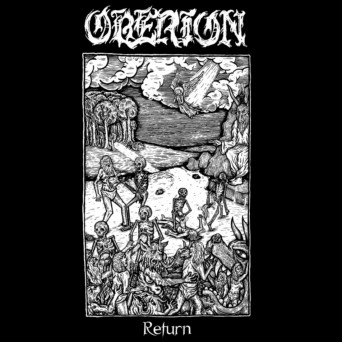 Online Album -2014- Sweden
OBERION are from Sweden. Founded in 2010 they put in June 2014 their first cd on the market. It is called "Return" and was published in in-house production.
What does I hear here? Old School Black Metal. Presented pitch-black and raw without much technical folderol. Conscious simple kept riffs constitute together with the always kept in the background, bur nevertheless emphatic doubleblast drumming, the musical base frame. The listener is taken along into dark worlds of coldness and loneliness. The extremely emotional screams now and then inserted emphasize and reinforce the depressive, misanthropic character of the production. A journey deep into the human abysms. Partially halting riffs remember a bit of WATAIN. By the skilful game of tempi and some Death Metal speckles develops a certain alternation which becomes the production. The melancholic, dark vocals of Patric Kreutzberg yet reinforce darkness and loneliness. A very intense musical journey which makes a lasting impression on the listener. Listen to "Return". It's worth it!!!!
8.9/10