Hi what's up? Your last album "Jehovirus" still smoke on 🙂 What are the reactions of your fans? And I think you are planning about new concerts and tours. Can you give us some information about these?
Raimundo Correa: Yes, thanks for your words. The reactions have been incredible so far. We've received a lot of support from the fans and that's something we didn't see coming. We think the name of the band is expanding right now thanks to "Jehovirus" and that is because the record was made with honesty and true hard work. About touring, yes, we are working in our first European tour for summer 2011 with Brazil-based agency Insano Booking. We hope promoters get interested in bringing us over there.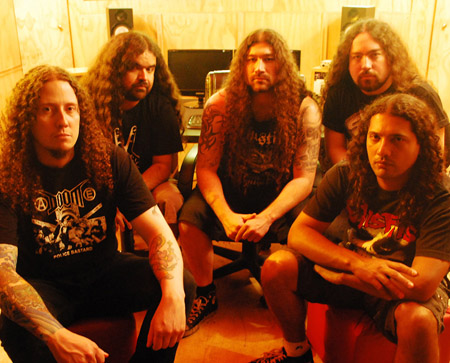 "Jehovirus" your last hit… Could you tell us details of this album? I think you are so into political issues on this album. Can we say that you have a direct political view or are you just handling general problems? And on "Jehovirus" what is the main theme of this album?
The album was recorded and mixed at Audio Custom Studios here in Santiago, Chile. The mastering process was in charge of Russ Russell in the UK (Napalm Death, Dimmu Borgir, The Exploited, etc). In terms of sounding, we think the album has a unique warm vibe mixed with a lot of the thrash patterns we always look for. The political issues are always present in our lyrics but this time we put our efforts in making a strong critic about religion. There's a clear bound between politics and religion and that's power and money. At the end, they always tell us what to do or think and all of that is based on what the need to keep getting rich. Fuck it, religion is an infection which is not meant to be followed by force.
In your discography we see that you recorded your scene performances in dvd's and I found a bootleg record, recorded in Santiago too… Are you interested in visuality?
We think using audiovisual stuff is a good way to make an impact about your music. However, we mostly have "live videos" available and not a lot of produced studio videos. One of the things we really enjoy doing is performing live and for that, we like sharing those performances to all fans who couldn't be there to see it.
I think your fame is get'n around the world. Did you have any performance out of Chile?
Yes, we have a couple of performances in Argentina, Peru and Mexico. The biggest one was in Mexico City (DF) when we shared stage with Grave, Toxic Holocaust, 1349 and Denial. It was an experience out of this world, we never thought of getting the feedback we got that day. The idea – of course – is try to expand more as a band and get to Europe, Asia and US soon.
You have an interesting album cover…A zombie guy dollar marks on the hat, a gas mask on the face , holding two babies in hands and round city silhouette full off skulls… What was the point of cover?

To be as graphic as possible about this "religious infection" we talk about in the album. The religion is there when you born, growing up and of course when you die … taking all your money making you believe that if you don't cooperate with them, you won't get a spot in heaven. Stupid, isn't it? … But not less true. Why so graphic about it? People are blinded by their beliefs and if you don't show it as it really is, there's no way you'll get their attention.
In your presentation you wrote that you are the most active and most performing band of Chile. The bands we know from Chile are generally play'n underground, at the same time Chile is a popular scene for famous bands… So you had lots of chance to play with famous bands. Can you tell us about which of them influenced you most?
Well yes, Chile has legendary bands such as Pentagram, Atomic Aggressor, Torturer, etc., just to name a few. Of course when we started in the metal scene, those bands were a direct influence on us. So you know, when we started listening to music back in the early 90's / late 80's, Pentagram was splitting-up and Atomic Aggressor had already recorded their most acclaimed production "Bloody Ceremonial" so you can understand that we grew up listening to those guys and of course there's a true respect towards them.
By working on your history we saw you had so many performances, I think you should have funny memories like having a beer bottle or tomato of the head or something like that…Can you tell us some of them?
We've seen so many funny things while performing live. Drunk kids going straight to the ground hitting their heads so hard so you think it could kill them, but no, back up in their feet just to go again to the ground hahahaha. A shopping kart coming from nowhere in the middle of the pit, girls punching kids … priceless!
On your last album we see that you worked with two different recording company 'Sick Bangers' and 'Australia Rec.' Did companies work together or different parts of stuff like distribution and promotion or adds?
They worked together in order to release a bigger number of copies. Nowadays they work independently (focused in different targets) but always together in terms of giving the band a better promotion.
Recently I see your sign very frequently on social media content websites…Can you tell us reasons of this kind of strategy?
We believe that if bands want to share their material, news, etc. nowadays, there's no better way to do it than using the tools internet is giving you (and for free). For better or worse, physical fanzines and magazines are disappearing right now and mp3 killed every chance for the bands to make some money out of their released material so, if you want to make it in the metal scene, you should accept the available alternatives and use them to improve your promotion.
Since today there've been lots of review about your band on magazines and webzines. Can we talk about some of them stuck on your mind complimented and cursed about you?
Since we are working a lot in the band's promotion requesting reviews, notes, interviews; we have to accept criticism. We have received a lot of great words about the album, not so good and of course some crappy thoughts about it. People are free to comment whatever the hell they want but always with respect towards the work behind it (which is a lot).
There is a note from you on the back side of your album cover says" the path to salvation is an excuse for aberrations'', is this note represents your freedom concerns?
The note mostly represents the main concept of "Criminal Solicitation" song. Religious people think they're protected by god and because of that they can do anything they want. Rapists, thieves and deviant behaviors are accepted within the church and that is the sort of things we state to be against in this record.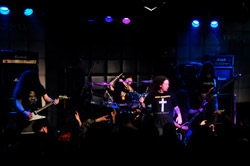 If I'm not mistaken recently Chile got one of the biggest mine accident of his history. In our country we've also been living this kind of accidents…What is your viewpoint about these political games and capitalism?
Well that's something that happens in every country. Mine accidents happen a lot here in Chile but always are hidden by the press. Mining companies have a lot of money and they don't spend a dime on the worker's security. What just happened is of course the biggest mine accident in the history of humankind and couldn't be overlooked. People working in the government are also business men and for that they protect their own kind. It's something that should be changed but it doesn't seem to be advances on that.
I'd like to ask something out of line. What are your other interest else music?
Nowadays we are 100% working for the band. We have our day jobs to pay the rent, food and basic stuff. No one is into sports or other activity for the moment but playing their instrument.
Do you remember what was your first album you bought? All members should answer if it's possible…
– Iron Maiden – Killers (Francisco)
– AC/DC – Who Made Who (Matias)
– Kreator – Pleasure to Kill (Punto)
– Guns n' Roses – Use your Illusion (Raimundo)
– Metallica – Ride the Lightning (Sebastian)
You've got so much songs you wrote but do you play cover to burn out the audience? Do you have any favorite bands or songs?
We always like to tribute our references in metal. Always a Kreator, Slayer, Testament or a Sepultura song is welcome just to name a few, even though our favorite's bands nowadays are far away from what some of those are doing right now.
If you had a chance to make a tour around the world, which countries and fest's you would choose at most?
Ufff, for what we've seen in videos, magazines and internet, Wacken Open Air & Party San (Germany), Hellfest (France), Damnation (UK) or Metalcamp (Slovenia) would be a dream to be a part of. There are tons of great festivals going on in Europe in the summer time and of course we would give a kidney to have just one chance to perform there. Sadly here in South America you don't see those kinds of productions but you have to live with that.
As all we know in South America people have solid religious views and people are very dependent their beliefs…What are your viewpoint on religion and religious view?
Well, we all state religion is a fake yet very wealthy company. We aren't really religious people and we don't really care if we get rejected by our families or friends because of what we think. We are not Satanists or blasphemous people, we just speak our minds off in terms of explaining our view about the shitty religion society has put in front of us.
Thanx for the interview and your time. And guys I hope we will meet soon again…Is there any message to Extreminal.com members by concluding this interview?
Thanks to you Cenk for this chance to talk a little bit more about Nuclear and our music. We are going out of true metalheads interested in underground music and this is a real a chance to explain what we do and why we do it. Thanks to Extreminal.com and to all the Turkish metalheads reading this!
See you next year on tour!
Stay fucking insane! | www.myspace.com/nuclearthrash