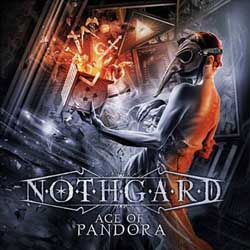 Trollzorn Records – 2014- Germany
The Bavarians NOTHGARD already exist since 2009. With "Age Of Pandora" they released in September 2014 their second full-length cd via Trollzorn Records.
You can hear very epic seeming instrumental music packed in a bombastic musical dress. At the next song ("Age Of Pandora") the storm of hell breaks loose. Technical Death Metal is now the topic! Very melodic and modern, but nevertheless with sufficient bite and aggressiveness. The multi-variant riffs give additionally energy and show the technical skills of the band. By the addition of several Pagan elements the independent sound of NOTHGARD develops. A powerful drumming and forceful bass-lines esnure for the necessary hardness and self-assertion. The emphatic vocals of vocalist and guitarist Dom R. Crey mediates additional sustainability and also a proper portion of darkness. The all in all ten songs are kept in the mid tempo area. Professional and dedicated recorded you can pick out here joy of playing and comitment in each note. Who is into modern, technical Death Metal with Pagan influences can grab here unhesitatingly. For all the others: Listen to "Age Of Pandora". It's worth it. The guys definitely succeeded here in doing the balancing act between Death Metal and Pagan Metal!!!!
8,8/10