News
Norhod signed a new deal with Wormholedeath
Italian Epic / Symphonic metallers Norhod signed a new deal with Wormholedeath for the release of their new EP which is scheduled for spring 2015.
Here's the Official Press-Statement from the band: "We are very excited to announce our re-signing with Worm Hole Death for the release of our new EP. In this year we worked very hard to evolve our sound and to introduce new elements and influences into our songs and we are very looking forward to make you hear them. We are very happy to work again with WHD and we are sure that together we'll do great things!"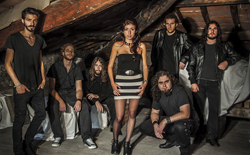 The band is now working at Mathlab Recording Studio with producer Jonathan Mazzeo and when ready with the full tracking will fly to Canada to mix the songs with Christian Donaldson.
The new EP is set to feature 6 new tracks composed to enhance the band's epic approach, symphonic sound imprint and vision.
Worm Stated: "We are really happy to have the chance to work again with Norhod. We have showed our trust in them by releasing their awesome debut album and we will continue with this new EP. The new tracks are strong and solid. I am sure that these guys will show what they are capable of through this release which will confirm their own style and conviction …Just give them time and you will see. We were all happy whe the bnand showed interest in working with us again and this makes us proud.
We are a good team together and we will go ahead together. That's it."
Artwork will be once again created by Rhett Petersoo at Machine – Room.