Who is NONEXIST anyway?
Howdy! It's me – Johan Reinholdz – on guitar and Johan Liiva on vocals. In the studio we're doing the band as a duo and then live we have Linus Abrahamson from my other band Andromeda on bass, Johan Aldgård on guitar and Joakim Strandberg-Nilsson on drums. Both Johan Aldgård and Joakim play in the band Faithful Darkness.
Why did you chose this band name in particular?
I thought it sounded very metal and it was original! I studied philosophy at the university at the time and got the idea of the "nonexist" and "deceptive god" – Deus Deceptor – the title of our first album – from French philosopher René Descartes who wrote about some weird, dark shit.
I find it difficult to describe your music. How would you name your music style?
Good! Then we must be doing something right I think! It's a brutal yet melodic mix of death- and thrashmetal combined with some hints of black- and heavymetal plus some gothrock influences thrown in!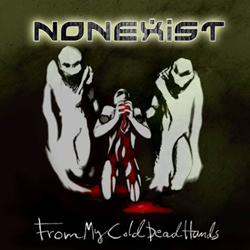 Your last album "From My Cold Dead Hands" was published in 2012. On your Facebook site you can read that you already work on new material. Can you already tell us something about it?
Yes, we have about half of the third album written. The music anyway, the lyrics are lagging behind a bit so far. Well, there's gonna be more deathmetal influences on this one compared to "FMCDH" which leaned more towards thrash I think. A lot of blastbeats, some really melodic stuff and some surprises too! Stay tuned folks!
Are you in contact with other musicians / bands in Sweden or do you go your own way?
Not many no. Some local dudes though.
Do you have actually any role models?
I can only speak for myself and those would be Charles Bukowski, David Lynch and George Carlin.
How important are your fans for you?
Very! Very important indeed! It's a nice feeling to realise that after ten years or so since the previous album "Deus Deceptor" people still care about our music and have been longing for a second album. We take the time to answer every fan who writes to us.
Where do you see the band in five years?
I don't really like to make such plans in general, I think the whole charm of living is not knowing what is gonna happen. But anyway – I'd like to see us touring regurlary and making interesing albums where the music continues to evolve.
Will we see you soon live onstage?
Soon I hope! No definite plans at the moment though, unfortunately! We're building the band up again after almost ten years of being inactive. We have to pay our dues again, that's for sure!
Any last word to your fans you want to add:
Yes! – If you're an old fan from the first album – thanks for sticking by us all these years! And to all others: check out our new album "From My Cold Dead Hands". If you like metal the brutal, heavy way you won't be disappointed! Thanks for the interview and support! Bye!
Many thanks for the interview and all the best for the future!!!