Reviews
NIHIL OBSTAT "Disintegration"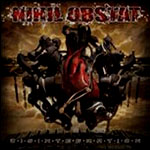 Gormageddon Productions/Stygian Crypt Productions – 2010 – Colombia
After very cold reviews, it is time to have a look at hot Colombia, the guttural vocal of Nihil Obstat from South America is heard from the cdrom. The band, formed in 1999, has participated in many compilations, after a few demos, promos and an album, they continue to disintegrate with their second full album Disintegration.
Disintegration is a brutal death metal album with an unsteady tempo, deadly guttural vocals and intermittent riffs with grind effects.
Brutal, fierce riffs to death, head-crashing, devastating drums and cruel, grim guttural vocals! I wish we could go their concert here and die there!
These kind of things always get high points from me, especially if the work has a proper recording, brutal death metal bands are always in the first place for me. As a brutal death metal lover, this is a sincere recommendation from me to the listeners.
9/10