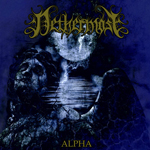 Hypnotic Dirge Records – 2012 – U.S.A.
The Americans NETHERMOST released last year their debut EP "Alpha" via Hypnotic Dirgle Records.
Here is celebrated DoomMetal. Melodic riffs which seem to weight tons unite with pitch-black melodies to a deadly mixture. Very diversified shaped and nevertheless melanchoic and dark you can literaly feel despair and gloom. The all in all four songs all move in the mid tempo area. Here is conscious renounced of speed which yet reinforce the depressing atmosphere. The emphatic, dark growls of vocalist John Johnston which go little short in the Death Metal area do one more thing. The subtle, kept in the background drumming gives additional the main points. NETHERMOST created a very intense EP which is thoughtfulness. The lyrics deal of the nature and its lower elements. Technical impeccable recorded "Alpha" offers everything a Doom Metal record needs. Check out NETHERMOST. It's worth it!!!