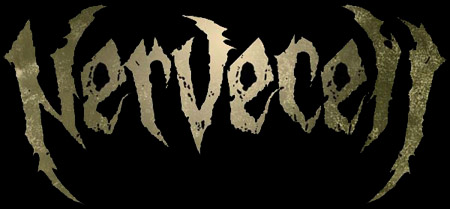 In the last January I had reviewed their last album 'Preaching Venom', I had interested in the Dubai band. We had an interview about the band in the name of presentation before the concert who is going to come to Turkey with the band Deicide.
You are the first band I know in Dubai as a metal band. One of my friend's who had been there before, told me that it's a beutiful place instead of it's heat. Nervecell pronounced as a Dubai band but I learned that you came from different countries. What is the thing that makes you come all together in Dubai?
Barney Ribeiro (guitars): I was born and raised in Dubai and yes it is a beautiful and nice place to live in. The people who live in Dubai basically come from all over the world so similarly Nervecell also consists of members that are originally from different countries too. When Nervecell was first formed back in the year 2000 we started off as a 5 piece band playing covers along with some originals and the band consisted basically of a bunch of friends of mine from back in collage. It was only about 2003 when I met James and Rami at a local gig where at the time they were new to Dubai as students in a university here. It wasn't very long after that however since they joined the band and eventually became part of what the complete Nervecell line-up is today. Rami like James moved to Dubai to study here and me being based here already with the band eventually made things work itself out. We first got along as friends and of course ended up being band members , just for the record anyway – Rami is Jordanian, James is Lebanese, I am half Portuguese / Indian and our current drummer Loui is Australian!
In drums you have been working with David Haley from Psycroptic and Louis Rando from Pathogen and if I'm not wrong Louis Rando is also joining you on the concerts. But as a permanent drummer who is with you? What is the last case about it?
Rami Mustafa (lead guitars): Dave recorded our album "Preaching Venom" and we met Louis on our Australian headlining tour in 2007 while his band The Furor was touring with us and we became really good friends since then. Louis started sessioning for Nervecell since 2008 and since he is a really busy drummer playing with 3 different bands and Nervecell and for the fact that he lives in Australia, which is pretty far away from us, we never thought or spoke about him joining the band for these reasons. We are in a really good relationship and we feel he is the 4th member of the band already but he is not a permanent member. Louis played every gig in Dubai starting with Dubai Desert Rock Festival 2008 and loads of European festivals including With Full Force, Wacken and more, and 2 European tours already including the latest one with Suffocation and we are all happy to work this way at the meantime.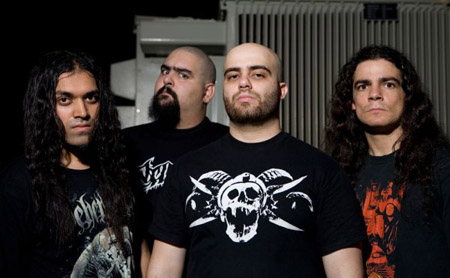 You had taken stage in a bar called Rockwell Bar in Dubai. How is metal music scene in Dubai? Like Places, bands…
Barney: I wouldn't say there is a metal music scene as such, we do have a number of bands around but its not really a metal scene as you would see in other countries. It's more of a general music scene with very few bands that actually really invest a lot of time and effort to take their music seriously! I mean most bands here are still getting around to putting out their first full length release!
So in other words we are still in the early stages before you can call it a scene so to speak…What we do have is a lot of fans of metal music here but not a lot of venues for these fans to go out and have a good time. I think this remains to be a problem, also there are rules like 21+ venues where a lot of the metal kids don't really get to come out and watch their favorite local bands because of age restrictions. Lastly promoters here are very few to hold consistent metal nights and only lately have these few promoters started to take the initiative to organize live events where bands can now get the opportunity to play original music and be able to perform every now and then.
I think being involved with the music scene in Dubai for the last 12 years things are certainly getting better, I keep reminding myself it could always be a lot worst so you have to learn to appreciate what you have.
'Preaching Venom' has arrived to me by Lifeforce Records but it also seems that album also came out from Music Master. One of them is saying that the album came in 2008 and the other one is saying that it's in 2009. I guess the one Lifeforce Records had, is a re-release? What is the situation exactly?
Rami: At first Music Master released "Preaching Venom" in the Middle East and North Africa region in April 1, 2008. Music Master never signed a metal band before and we were the first band ever in the Middle East region to release a death/thrash metal album with them so that was really exciting for us. Then we thought that we can go with a more focused label and Spellbind Records deal came after signing a deal with our management CSM (Center Stage Management) which both are based in Dubai, so we re-signed the album for again in mid-2009, continued releasing for that year only for the Middle East and North Africa. Immediately after our European Festival Tour 2009 we received an offer from Lifeforce Records in Germany to release "Preaching Venom" in Europe, so we re-released it in Europe with no changes whatsoever and the CD includes a bonus EP CD "Human Chaos" which we released in 2004 and they included that in the 2009 release.
When you heard a band from United Arab Emirates, as in genre you get something different in mind and it might cause misunderstandings. Can you enlighten the people who have never heard about you before?
Barney: Nervecell is a Dubai based metal band, we play a mixture of Death metal with Thrash metal elements, you can also find a lot of groove and melody in our music together with some more modern and brutal elements in there as well!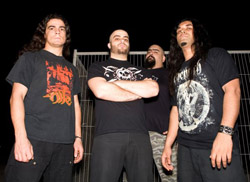 'Preaching Venom' got really positive reaction in the press area, It's a high pointed album in reviews also it get high point from Extreminal too. It has high quality production and recording as well as musicality. Can you tell about the process of agreement with the label?
Rami: Thanks for your thoughts! We worked really hard on the songs and the production of the album, the idea was to have a release were we can represent our music to the whole world the way we really wanted it to. Since we funded the production ourselves, we didn't really have the budget to travel around the world and record the album outside of Dubai, so we did all the tracking in Dubai with Kiran Sequiera, the same producer who worked on our last EP "Human Chaos". We decided to work with Dave Haley of Psycroptic for the drums, which did a fantastic job, so I went back and forth with sessions and pre-production with him and he finalized the drum tracks in Australia, sent us the drum tracks and recorded the guitars, bass and vocals in Dubai. Once we were complete we decided to work with Wojtek and Slawek Wieslawscy (VADER, DECAPITATED, HATE) from Poland on the mixing process as we really liked their style of work with Decapitated and Vader so we started working with them also through sessions. Finally the renowned Alan Douches (SEPULTURA, UNEARTH, SUFFOCATION) mastered our album in New York, USA. The album artwork was created by Dennis Sibeijn (ABORTED, ALL SHALL PERISH, JOB FOR A COWBOY). We were so happy with the results and received so many positive feedbacks from fans and press.
Last month you had a very busy touring program. How did the European tour go? Where was the best spots? How was the reaction of the audience?
Rami: The tours were great man, we played three tours in Europe in the last year and a half. A European Festival tour in 2009 covering Wacken Open Air, With Full Force, Rock am Ring/Rock im Park, Way of Darkness and others. Another headlining tour in late summer 2009 was entitled "Preaching Venom European Tour 2009" covering mainly Germany, Holland, Austria and Belgium, that was an independent tour and played our first club/bar shows in Europe which was crazy! lots and lots of fun! The latest tour we did was a 25 show tour (March/April 2010) in Europe/UK with Suffocation, Annotations Of An Autopsy, Fleshgod Apocalypse and Burning The Masses, and this tour was simply the best tour for us to date. We had so much fun on the road and it was an absolute pleasure sharing the stage with Suffocation every night. We had lots of great shows, we played 6 shows in Germany alone and most of them were great including Munich and Essen as favorites. My other favorites were in Paris (France), London and Leeds (England, UK), Holland and Slovenia, all the rest were really exciting too since we never played there before, like Italy, Switzerland, Slovakia, Czech Republic and more. The crowds were pretty brutal, mostly pure death metal crowds which were our main target. Crazy circle pits and moshpits and that's what we wanted to see haha! Suffocation ripped every night and the other bands were great too. We made really great friends and fans on this tour. Fun times!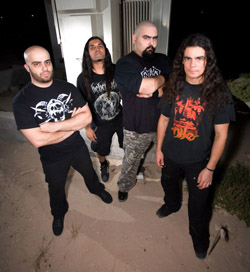 You will be here in May 28th. What kind of preparations Nervecell have against Turkey's audience? Playlist, etc…
Barney: You know we are just happy to finally get to play in Turkey, it has been a place we have wanted to go and perform in for a long time. Being aware that the metal scene there is really strong and growing it's an absolute pleasure that we get to finally play there for the first time on May 28th alongside none other than Deicide! Apart from promoting the songs on our last album Preaching Venom we don't really have anything else specially sorted out to be honest, I guess I can say we are purely as excited as anyone else in the audience to be there and make it a night to remember for all! So we definitely look forward to coming out there and tearing the stage apart and of course to also get to meet all the crazy metal heads of Turkey that we have heard so much about!
It also seems like you are going to take stage in Dorock Bar in May 29th. Instead of taking stage in the same city 2 days straight, why didn't you prefer other cities like Ýzmir or Ankara?
Barney: I guess we haven't been invited to play there yet, we would have loved to play both Izmir or Ankara as well, why not? If there is any serious promoters out there in those cities who would like to bring Nervecell there, then get in touch with our management and hopefully we can make it possible! At least if not this time around then maybe next time 😉
Have you ever been in Turkey before? Or have you ever listened any of the Turk bands?
Rami: I've never been there before and always wanted to, but I've heard of Mezarkabul (Pentagram) which is an awesome band.
That's all I ask, finally is there anything for you to say?
Rami: Thanks for your support and time! We are really looking forward for both shows in Turkey especially with Deicide and of course at Dorock. I heard great things about Dorock and looking forward for it to be a great night! Turkey is a close neighboring country to us and we feel privileged to be there soon and play some brutal music! To all the fans, hope to see you all at both shows and see you unleash some craziness in the pits!!
www.nervecell.net 
www.myspace.com/nervecell