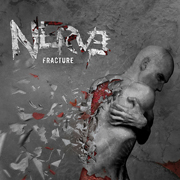 After the incredible "Hate Parade" (Nadir Music, 2010) after which they shared the stage all over Europe with names like Cynic, Sadist, Extrema, Misfits, Obscura, and after a couple of long tours with Incantation, Hate and Decapitated, Nerve finally came back to the scene with their brand new records, called this time "Fracture".
This new full-lenght is the higher expression of the band up to now and sees the cooperation, in all songs, of Dariusz "Daray" Brzozowski, drummer of Dimmu Borgir.
It's set to be released digitally on 21.06.2013 for Buil2kill Records on all major digital markets Worldwide and its preorder will be available starting today on
nerveofficial.bandcamp.com
. Physical distribution (exclusive digipack limited edition) is set to start on August Worldwide.