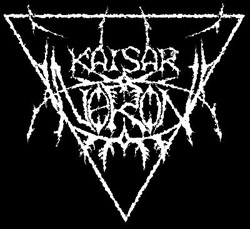 Can you give us information about band? When is it established and what have you done so far?
The band have founded by Varvar and Old Man on January, 7th, 2008, at this day we rehearsedour first song the Hunger of the Fallen, about vampires, as a result we have left it on the album as memory of the beginning. Later we were defined with a name of our group, taking it from Varvar's Black-metal project – Neron to which have added Greek word – Kaisar. Taking the main idea of the Neron's legend, we have defined with the further direction of our way and development. In April 2009 we have decided to test the forces in studio and demos Exilis have written down, it has turned out raw and not absolutely corresponded to our desires, later, the same year we have sat down for record ЕР – a disk «Magnum Incendium» which we presented on organized by our band the first Black–metal festival in our native city on April, 4th 2010 in day of Easter. During the period since autumn 2008 and till April of 2010 presentations of ours ЕР, we acted at various festivals.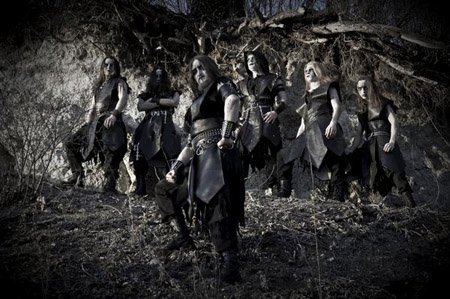 You have released your first album about two months ago. How long does it take to complete "Magnum Incendium"?
It tooked us 8 month to finish it. Including all experiments with a sound, audio mixing and arrangement.

How happened your contract with Grailight Productions? Has any label outside Russia been interested with you? Why did you choose Grailight Productions?
After we have published the information that we have almost finished our album, we've received many offers to release album from different Russian labels. We have attentively considered all offers and decided in favour of Grailight Productions, as we draw our attention to good conditions of the contract. Though GP – enough young label, we it 7th release, it cooperates with many other labels and soon after release in the CIS, our album left on English digital label Harvest Moon Records.
There is Thyrane cover in the album, '' Chaotic Profane Phenomena''. Usually major bands are chosen for cover. What is the reason that you hace chosen Thyrane?
We treat with big respect to Thyrane and to the Finnish black metal school and Finnish heavy metal scene.
There is a lot of black metal band in Russia. But none of them is not popular around the world? What is the reason of that?
In Russia nobody is interested to support black metal bands – neither people nor large labels …
What are the bands that you listen or inspire?
The musical perception of our world was influenced by such groups as Burzum, Marduk, Immortal, Thyrane, Azaghal, Urgehal, Barathrum, Finntroll, DarkThrone, Limbonc Art, Darkwoods My Betrothed, Black Sabbath and, particulars, Finnish BM school. Also we listen Cannibal Сorpse, Death, Megadeth, Dimmu Borgir, Taake, Equilibrium, Emperor, Die Apokalyptischen Reiter, Dio and other awesome metal bands.
''Bloody Black Terror'' has been my favorite already. Do you think a videoclip for it?
We hace such idea in our minds, as the text and sense of a song excites our imagination, but, unfortunately, now it's really sticky.
Album is suitable for symphonic black metal definition? How were the reactions in this short period?
We describe our music as black metal with use of keyboards. The reactions was satisfactory for us and that makes us glad, but as usual, there enough smarty-pants that thinking them self better than others

I love your album cover. Who is the design belong to?
The artwork and other pictures for an album made by our friend Darya Mihina. She perfectly conveyed the meaning of an album and mentioned its main idea. The design has made by our drummer – BlastHate.
I have watched your 2008 "exiliss" performance on internet. Will be there any concert for second album promotion?
Yeah, it's one of our first live gigs and we are certainly planning to make second album, and make support tour!
Black metal bands draw attention with stage shows. Do you have in your minds any stage show like that?
Yes, we have costumes that representing the Neron's cohort, but for us the main thing is our music and if we will decide to diversify our performance by any kind of show you will see it.
What is your favorite 3 black metal groups? I want completely personal answers.
Varvar: Thyrane, Urgehal, Marduk .
Bastard: Azaghal, Darkthrone, Carpathian Forest .
Old Man: Thyrane, Satiricon, Dark Fortress.
BlastHate: Thyrane, Immortal, Seth.
Our guitar players do not listen to much BM music, they prefer to practice guitar more.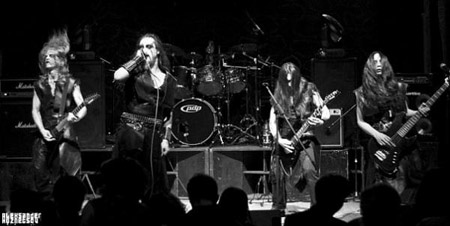 Where can listeners find your album?
All listeners can order our album from our label through e-mail [email protected] or buy it on bandcamp.com and harvestmoonrecords.net/store.html in digital format.
Thank you for your time. I hope album get the attention that it deserves. Is there anything else that you would like to say?
Listen our album, and we hope, that he will discourage you from believing in religious shit!