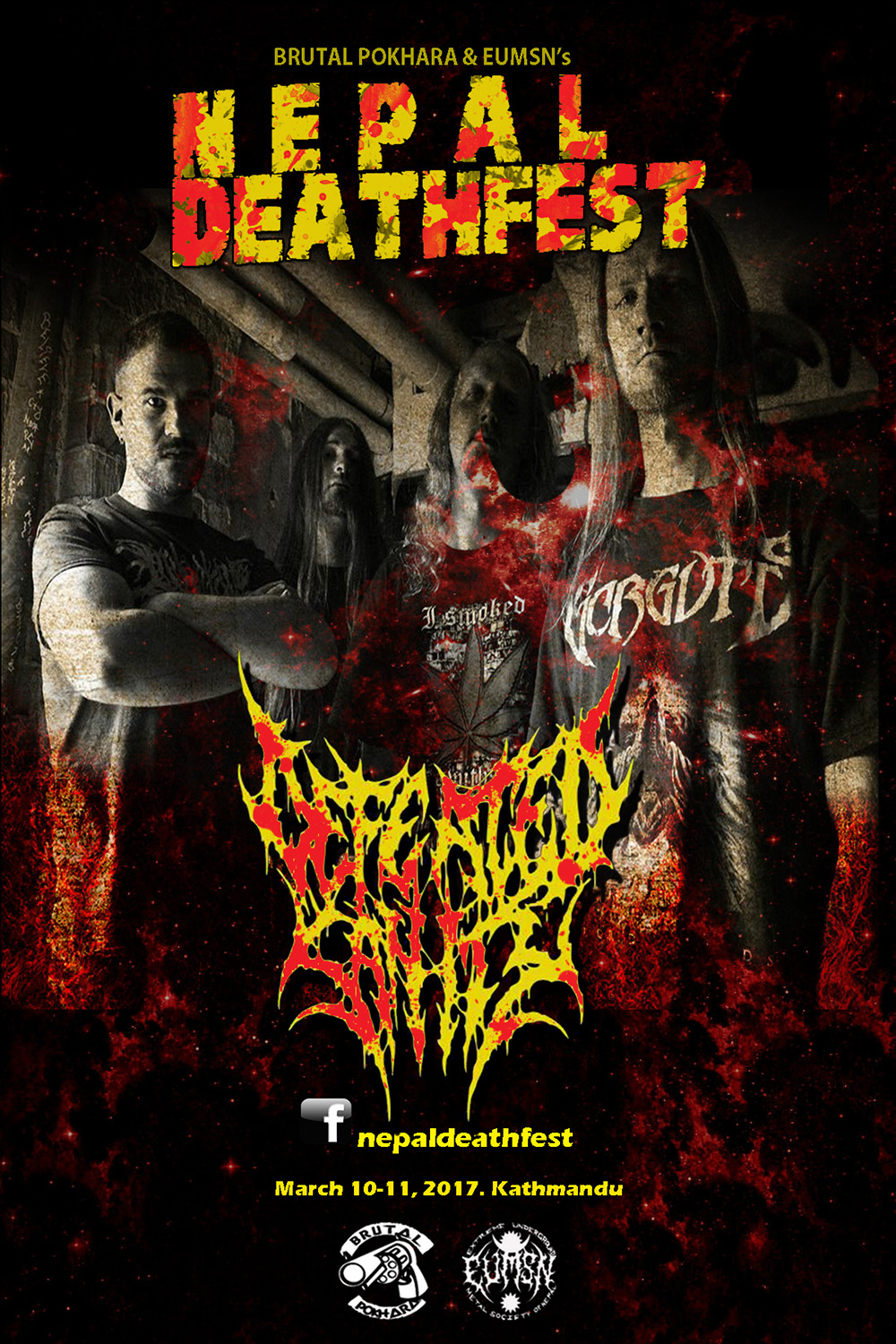 Today we caught up with Zivon Gurung, the founder of Nepal Deathfest to talk about the coveted Asian Extreme Music fest. Here is how it went:
First of all it's really good to do interview with such an underground and extreme event organizer. How was the idea of NDF started?
Zivon Gurung: Thank you. It's great to do it for a coveted webzine like Extreminal too. It's a pleasure to be talking to You guys.
As a fan I always felt the lack of a proper fest dedicated to Extreme Music and since no one here was kind enough to do it for us fans so I decided why not me as I was already doing quite a few underground DIY shows under my label of BRUTAL POKHARA but pulling off a show like NEPAL DEATHFEST was no joke. You needed people who would do it for sheer pleasure and love for the music and not for any monetary gains so that's when I discussed the plan with my bro Vishal of Extreme Underground Metal Society of Nepal and he said yes before I even finished my words/plan. And rest as they say is history.
Early 2016 was third time that NDF was organized, which bands have played so far? And how was the audience? How many people have attended?
Yes, we've been doing the fest in winter (January) for the last three years now but this has been changed and shifted to March from now on because winter is too cold to fuck around in Kathmandu.
The last edition of the fest showed bands like Sete Star Sept (Japan) and FleshCrawl (Germany) headlined Day 1 and 2 respectively. We also had some amazing out-stationed bands like Nervochaos (Brazil), Rip off (India) and Meat Train (England) grace out tiny fest. Rest was some amazing local bands.
Putting a "genre dedicated fest" is always hard and risky in a place like Nepal and we were well aware of this before we started. The attendees are obviously divided. A wide range of wise people still accuse us of being bias for not including Prog-Rock/Metal, Metalcore etc bands in a Deathfest line up to which we just react by applauding their great sense of un-bias thinking! People can get unbelievably ridiculous at times.
As for the turn out we are always left surprised as in most cases it surpasses our expectations.
After 2000's, Asian metal scene, especially extreme metal scene, have grown huge in period, What things have changed in the scene?
Yes Asian Metal market is the big thing now. Every band wants to travel Asia and play.
As for Nepal, few years back foreign bands would only travel here to play big events and fest and then after that the whole year would go dry with no foreign bands coming and play Nepal but we (Brutal Pokhara & EUMSN and of course few others)have been able to change that to some extend now. You can now see quite a lot of bands travelling and touring Nepal and play various cities and not just Kathmandu. I think this is one notable growth in the scene here now. Rest of the things is evolving too. Bands are getting better. The concert production and quality are getting better and people are actually travelling from one city to another for shows which is an encouraging trend in itself.
If you compare NDF to the other festivals in Asia, where would you see NDF in them?
Every fest is different and good in their own way. It's a celebration. Comparing to any fest is something we really don't want to do. Nepal is a different and slightly isolated from the most happening scene of South East or Far East but we are trying to make it happen here too.
When we started NDF we never in our wildest dream thought that a DIY fest like this would turn out to be this huge. It's incredible to see people travelling from other countries to Nepal for NDF.
For 2017 we already have people from Czech Republic, Australia, Philippines, Algeria, UK etc writing to us and wanting to book passes for the fest. This is a huge boost for us. And of course there are plenty of awesome bands wanting to travel and play our fest. This is as good as it can get for us.

Is it hard to organize metal event in Nepal, we can see majority of good Asian bands had played before with few European bands too. How do you contact European/American bands, I mean is it hard economically? How do you finance it? Any major sponsors in your country or all festival things are organized on "diy" rules?
Metal events are hard to organize in most parts of the world and Nepal is no exception but we are fortunate that we have some good promoters here who work selflessly to do show all round the year without any good financial backings. There are few mainstream metal events with some sponsors but mostly our shows are done with DIY ethics. Working with corporate companies is hard and at one time or another they will test your patience with their corporate piggish concepts. Our shows are better off without them. We wouldn't mind, of course, if they don't interfere too much with our event plans and structures.
Most of the time bands write to us and we do the choosing but if there are any particular bands that we want them to play our fest we personally invite them via their booking agents or whatever ways. We are glad that we've been getting the bands we want so far.
Let's talk about this year; will it be happening in March 2017?
Yes, March 10 and 11, 2017.
Could you give more info about bands? Do you plan special things for this year?
We have Defeated Sanity headline Day 2 of the fest and we already have Congenital Death (USA) and Corbata (Japan) for Day 1. Most of the bands are now finalized and we are only waiting to announce them.
Next year is going to be massive with the most intense line up Nepal has ever seen till now and we promise that. Surprises are on their way.
Thanks for interview,I hope all the best with you and your festival will be killer again ,I hope see you in there soon,what would you like to say to our readers ?
Thank you Extreminal for the interview and for the wishes, I hope you guys will make it to NDF someday. Nepalese beers await you guys.
Support NDF. Anything you wanna know or inquire about you can direct your queries to [email protected] or just inbox us on our page.