Reviews
NELDÖRETH "The Saints Of Blasphemy I: Baptized In Blasphemy"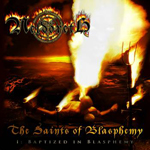 Extreminal Productions – 2013 – U.S.A.
The Americans NELDÖRETH are heard from again. Namely in terms of a cd called "The Saints Of Blasphemy I: Baptized In Blasphemy". It is distributed via Extreminal Productions.
After a spoken intro ("Diabolicae Baptismum") which is suitable as a soundtrack for each vampyre movie NELDÖRETH show with the second song ("Baptized In Blasphemy") where the musical path will lead us to. Here is celebrated Death Metal through and through. Riddled with several Black Metal borrowings the very own sound of the band originates. Partial very long riffs which however doesn't seem to be disturbing or boring give the production strength and power. It also shows how technical adept the musicians are who already play together since 2004. The all in all eight songs sound fresh and energetic. They literally thrill the listener. Supported by a powerful drumming which however never seems to be fussy or is given too much priority to. The distinctive vocals of Oz Bloodcurse do one last thing! "The Saints Of Blasphemy I: Baptized In Blasphemy" is all in all very diversified and enery-rich. Productional very professional recorded you realize here that are no beginners at work! I can only recommend NELDÖRETH to each Death Metal and Black Metal fan!!!! Here is buying duty!