Reviews
NECROMANCING THE STONE "Jewel of the Vile"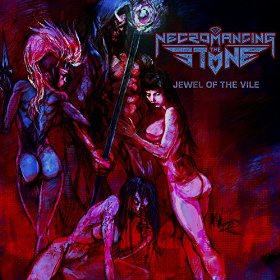 Metal Blade Records – 2016 – United States
The band responsible for "Jewel of the Vile" has been around for several years now.Their reason for debuting this late is the quintet needed time off from other musical commitments—namely Arsis, The Absence, and The Black Dahlia Murder—before starting work on the present material. So yes, we're dealing with a supergroup. And what sterling material they've prepared. As homage to the band's collective heavy metal roots the music on "Jewel of the Vile" will please fans steeped in vintage albums and the eternal goodies: blazing twin guitar solos, soaring melodies, Frank Frazetta lyrics, and hook-laden tempos from the mid-1980s.
The album immediately gets down to business with the opening track "Crusher" where the guitar tandem of James Malone and Justin Wood introduce their talents in grand fashion. It's also a springboard for vocalist John Williams whose nasal wail reminds this critic of the bloke from Cauldron, another retro metal band. Moving from strength to strength the album's momentum spikes on "Bleed for the Night" followed by the ripping "The Descent"—a mid-tempo offering that wouldn't be out of place in King Diamond's vast discography. "The Siren's Call" is a treat for Iron Maiden and Dio nostalgists. "Ritualistic Demise" is like Celtic Frost meets Helloween. The speedy "Unfinished Business" is almost an unreleased demo from the likes of Vektor if not for the clean vocals. There's a heap of myriad influences at work throughout "Jewel…" Even when the album meanders a bit on its latter half the band bow out with a firestorm on "From Graves To Infamy," which is almost a Keator song, and the Tolkienesque "The Battle of Morningstar."
Nudes adorning the cover art. Diabolical fantasy lyrics. A band name taken from an issue of TV Guide that advertised a Michael Douglas movie. Necromancing the Stone just offered the human race an enchanting labour of love overflowing with great song writing and musicianship. The band have even found enough spare weeks in what's left of 2016 for a serious tour.
This album is a jewel. You better believe it.
9/10