Blast Head Records announced the signing of Birmingham, Alabama's NEBULOUS for the release of the technical death metallers debut album 'The Quantum Transcendence of Death' for a later to be announced date.
"From the moment I heard Nebulous I was absolutely floored, the songs have this amazing energy, which I think people will really gravitate to. They are a band that has a solid vision of what they are after, and this type of work ethic always pays off! I am very ecstatic to be working with them and looking forward to the release of' 'The Quantum Transcendence of Death'!" comments Paul Shaw, owner of Blast Head Records.
The band recorded half of the album during the summer of 2011, but in October they suffered a major loss with the death of their drummer Justin Beasley. The band has forged ahead in Justin's memory and has just recently finalized the remaining tracks. The album was recorded, mixed and mastered by Joseph McQueen (As I Lay Dying) of Echelon Studios.
The album artwork captures the vision of the band and was completed by George Prasinis who has done album covers for such notable bands as Kataplexia, Mass Infection and Spawn of Possession.
Click Here
to check out 2 tracks from 'The Quantum Transcendence of Death'.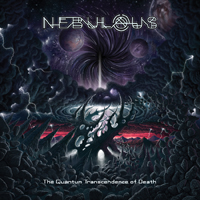 Tracklist:
PART ONE: THE MACHINATION
I: Of Means and Ends
II: Catalyze III: SN 5270
IV: Aggregating Powers
V: The Quantum Transcendence of Death
PART TWO: INTO INFINITE SPECTRUMS
VI. Devourer of the Cosmos
VII. Forever Impaled
VIII. Hivemind
IX. Spectrums