Reviews
NEBRUS "From the Black Ashes"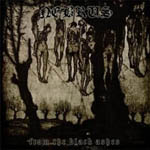 Schattenkult Produktionen – 2012 – Italy
Yeahhhhh a darkness coming from Italy, Nebrus moaning since 2008, first release is a demo in 2009, debut full-length is released in 2012.
Treble tone of the guitar scratch my ears lightly. Vocal style is very interesting, not scream, also chorus vocals are impressive. An original black metal band sounds like old-school bands. You can feel evil in darkness atmosphere of music.
I can recommend this album to special underground black metal collectors.
7.5/10