The official lyric video for the song "Through Treacherous Flames" from German extreme metallers NEAERA can be seen below.
The track comes off the band's sixth full-length album, "Ours Is The Storm", which will be releasd on March 1 in Germany, Austria and Switzerland, March 4 in the rest of Europe, and March 5 in North America via Metal Blade Records.
The CD was recorded at Alexander Dietz's Chemical Burn studio in Bed Kosen, Germany.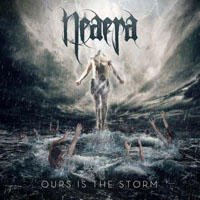 Tracklist:
01. The Deafening
02. Ours Is The Storm
03. Decolonize The Mind
04. Through Treacherous Flames
05. Ascend To Chaos
06. Walk With Fire
07. My Night Is Starless
08. Black Tomb
09. Between Us And Annihilation
10. Slaying The Wolf Within
11. Back To The Soul
12. Guardian Of Ashes