Reviews
NATT "Cursed By Eternal Agony"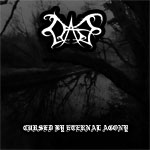 Demo, Total Death Productions – 2005 – Turkiye
The young Turkish band Natt , with their demo – "Cursed by eternal agony ",not for last time prove the truth , that the underground extreme bands are not lack of inspiration and fresh ideas .Natt presents raw and pretty agressive style , away from the banal and noncreative sound .
"Cursed by eternal " is filled with forcefull chords , hard beating drums , stunning vocals ,and all of this fit together just with one reason – to provoke the feeling of hatred and mocking .The 3 tracks of the Natts demo are distinguished , and not follow one and the same trand .
The first track " Cursed by eternal agony " is a significant introduction for the followings , especially wit this war sounds in the beggining . And what is after – fast drum -beatings , brutal vocals ,hoarsing guitars, like a whirpool of differnt , but also clear and well combined sounds.
" Wrath immortal " is a somekind logical going after of the previous one , including more death sounding , but also furious and hard .And here comes "Obscura " – let me confess my favorite one of this demo – its nearly melodic , in some parts , but not for boring long .
If i have to put all of this together -like in a well-arranged chaos Natt demonstrate a lot of energy and fury with their muzik , will not leave you get bored , just the opposite .If i have to figure out the sounding and my first impression of this demo just with a few words , so they will be thus- fast , agressive , remarkable .Listen it and feel the fury of Natt rushing on you , and i am sure it will leave the feeling of the sattisfaction after hearing good extreme muzik !
710 with the reason of not going conceited , and will continue their development