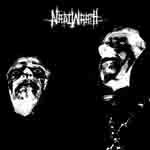 Here's the band I enjoyed the most among many reviews I wrote today, that is, from a neighbour country, Nadiwrath, besides which whose vocalist has worked with lots of other bands like Drunk Earth. We Hail!
I have happened to hear the saying "Drunken Sound" very much lately. Well, these guys has just blown me off, having incorporated the punk/thrash substructure with black metal tunes.. I have about this raw smudginess, for it is Thrash that musically makes up the groundwork of this music, as well as, however may be denied and mocked by herds, Punk… The Wrath vocalist, at some parts, tries whining shit vocals, but apart from that, overall it is a classy work. As a demo the sound fits in very well, the drumms are tuned in great, and the guitars and the bass are rhyming efficiently..
The lately inclinations in Black Metal scene which tends to turn back to oldies is clearly prominent in the band, well if we just said oldies, not 90's, but 80's.. Yes, Nadiwrath has offered us a successfull record with the musicality that blends up thrash metal and black metal together in this respect, boosting it up with the cry "Black metal agains all…" Personally I utter my utmost taste in each and every track on the demo, and with a slight envious expectation, I wish such bands to spawn in Turkey as well..
8/10