Reviews
NACHTMYSTIUM "Assassins -Black Meddle Part I"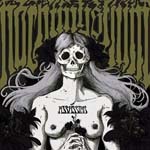 I guess everybody heard about them in a review or saw them on a internet site for the very late time.The band found in 2000 as a black metal band but they are insist that they are not a black metal band unless experimental-psychedelic metal.But for me, the constitution of psychedelic is more likely to be black metal and the theme of the band can be named as black metal.
Assassins-black meddle part 1 is the 4th record of the band.At the past they made lots of splits demos and live performance recordings that proves they are enough productive for the fans.But the record i am writting about now is the most valuable one for the archive of nachtmystium.
The drummer of the recording is Tony Laureno ; as known as the drummer of Dimmu Borgir,1349.Angelcorpse and Nile.He made a good job in this session.The record is already impressive especially guitar parts, the atmosphere they created…It satisfy the black metal based listener like me and experimental-psychedelic metal fans as they said.The last three songs mostly like pschedelic and reminds me Pink Floyd(specially Drown at Dusk) and they accept that they had been influenced by Pink Floyd.By the way at the records at some tracks the band used saxophone.Every songs in the record is special but i want to highlight two songs named "assassins" and "your true enemy" which is my favourite for late time and listening it without bored.
Finally, i was expecting this record with some good interest and i can freely say that its a good one.If you like the genres i told about and if you are not a conservative metal listener, it will be very good to check this band.Every article about this band says that this record is the one of the best product in 2008.Better to pay attention.