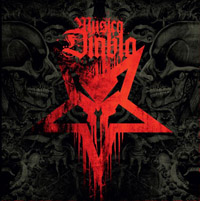 Brazil-based thrash metal project MUSICA DIABLO will release their self-titled debut album on May 28 via SAOL / H'Art / Zebralution. The CD's cover artwork was created by Gustavo Sazes, who has previously worked with ARCH ENEMY, GOD FORBID and OLD MAN'S CHILD.
Musica Diablo is:
vocals : Derrick Green (SEPULTURA)
Guitars : André L.A. (NITROMINDS)
Guitars : André Germani Curci (KORZUS, THREAT)
Bass : Ricardo Brigas
Drums : Edu Nicollini (NITROMINDS)
A preview of the song is available on the band's MySpace page.