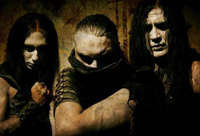 Argentina's MORTUORIAL ECLIPSE has inked a deal with Art Gates Records.
According to a press release, the three-piece from Cordoba, which has been in existence since 2007, "combines blackened death metal with symphonic compositions and ancestral resemblance, extended through dark and intense passages occasionally assembled into exquisite dramatic sections."
MORTUORIAL ECLIPSE's debut album, "The Aethyrs' Call", was recorded at Anger Vision and Vermin Studios in Cordoba. The CD was produces by Nefass, co-produced by Matias Takaya and mix and mastered by Arek Malczewski (DECAPITATED, BEHEMOTH) in Poland. It was released by Ishtar Gate Productions.
Source: Blabbermouth.net