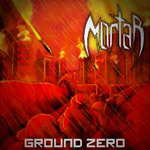 Incanned Productions – 2013 – India
Thrash Metal made in India? Yes, there is such a thing! MORTAR will release in February 2013 their first EP which is called "Ground Zero" via Incanned Productions.
The gents play Old School Death Metal with some Metal influences. The four songs which are located in the upper mid tempoarea are fast and energetic. Old School Thrash Metal base frameworks are highlighted here with riffs of all well-known scene bands (From ACCEPT to OVERKILL everything is available) without thereby being a cheap copy. You feel straight relegated to the old days. Supported by powerful drumming and forceful bass lines the songs go forwards and thrill the listener. The production receives alternation and dynamics by the mix of Old School Death Metal and Metal. The snotty, aggressive, screaming vocals emphasizes the nativeness and rawness of "Ground Zero". At that much Old School a cover song must of course not fail (JUDAS PRIEST-Hellbent For Leather)! All in all "Ground Zero" becomes a very hearable album which will please surely many Metalheads. Check out MORTAR and form your own opinion!!!