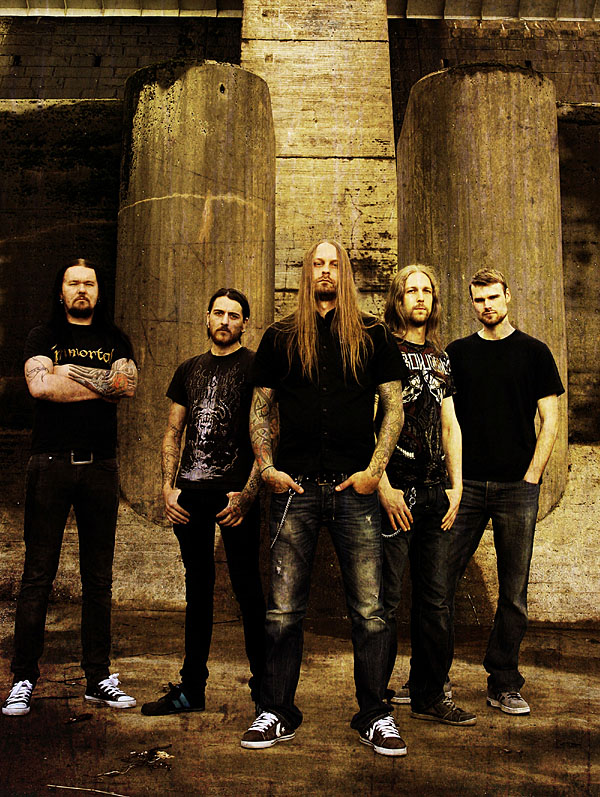 Finnish melodic death metal masters Mors Principium Est will release their seventh full-length album on October 23, 2020. Vocalist "Ville Viljanen" answered our questions and gave us the current news from the band.
Hello, first of all I would like to ask how do you get along with the pandemic nowadays? We knew that you had to cancel your show in Russia because of this situation. Did you have to change your plans regarding your upcoming album as well?
Ville: Hello. Album plans we could still do with the original schedule. The pandemic does not affect my life that much, actually. In Finland the situation is pretty normal at the moment. Of course playing live shows and traveling is not so easy, but other than that, all is quite normal.
Are you still working with AFM Records or will you change the label for the new album?

Ville: AFM will still release the new album.
The album "Embers of a Dying World" has received many positive reactions from death metal scene. What kind of differences will there be on your new album, when we compare it with "Embers of a Dying World" ? Have you decided about the title of the album yet?Ville: Yes, the album title is simply "Seven". The new album, in MY opinion, is like a mix between "Dawn of the 5th Era" and "Embers of a Dying World" albums. It still have symphonic orchestral stuff, but it is a lot faster than the "Embers of a Dying World" album.
What do you think about the music industry? What things have changed over the years since you released your first album?
Ville: I dont think about music industry that much. It is what it is. I can not change it. What has changed? Well, people do not buy CD's that much anymore and now it seems people mainly listen to music from Spotify etc. I know that used to be different when we started Mors Principium Est.
Where do you get the inspiration when you write new songs and lyrics especially? Are you interested in music genres other than metal?
Ville: I mainly write lyrics, so my inspiration to my lyrics comes from the music itself and also from stuff that I am interested in. For example, war and space. But I do get inspiration from pretty much everything. And yes…I do listen to all kinds of music, and I mean all kinds, but I HATE Finnish rap "music".
Over the course of your career you played in many different countries. Do you like being on tour? Are you planning to add your next tour schedule some more countries in which you never played before?
Ville: Yes, I like touring. I like seeing new places and new countries and also playing in all of these new places. We just recently released our European tour schedule and it seems the only new country where we have not played before is Switzerland.
Would you like to tell about your favourite performance venues?
Ville: It is difficult. I dont remember every place and also it is difficult to choose my favourite. It would be a lot easier to tell you my NOT favourite venues, but I will not do that. 😀 hah hah
You like to make covers of pop songs, such as "Livin' la Vida Loca" from Ricky Martin. Is there any special reason that you prefer pop songs to cover and release on Japanese editions of the albums?
Ville: Like I said, I listen to all kinds of music and I think these songs are great songs, so off course I would like to make my own version of them, as a tribute to the original. The reason why they end up on the Japan edition is just because of our contractual situation. We need to give the Japan edition a bonus song, so we have decided that the bonus songs shall be covers.
What are your plans after the release? Will you record a new music video? How important for you to use online platforms like YouTube and Spotify?
Ville: After the release, we wait for the Euro tour and hope that the Corona situation does not affect on that. For me personally, online stuff is not important, but for the band it is. I do not use Spotify and rarely I use Youtube. But I know most of the people use both of those, so it is important that they can find MPE from those platforms.