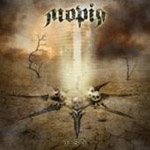 Black Art – 2009 – Ukraine
Obvious fans of Lord of the Rings and J.R.R Tolkien, Moria (Middle-Earth, yeah I'm a J.R.R Tolkien nerd myself), deliver some searing thrash metal that has some groove to it. The vocals come through with brutality but there is a ton of melody and rhythm within the music. Take for instance the opening track, "Pusta Zemlya", there are these thick guitar riffs and death metal growls; then interludes in the middle with something you would more likely hear from a band like Muse. It's something that definitely makes you notice and want to go back and listen to it again; the female vocals are a nice to touch that gives it more atmosphere as well.
The spacey track "Pravoe Delo" is also something that you would not expect from Moriya, after hearing the first couple of tracks, but it's also a nice change to the album. With a chunky bass line from Yegor and nice guitar lead, the song comes together perfectly with Oleg's vocals. "Hto Ti" is a heavy track with chugging riffs and again Oleg's vocals bring enough energy that you will be pounding your fist in the air along with it.
"Nemae Sil" has some incredible drum work from Volodymyr, not being all too present on the album until now; it's nice to hear him more in the forefront on this track. "Illyuzornyi Mir" comes out you at full speed with a killer guitar solo from Oleg. Overall this is a really well done album that has enough variety and holds the kind of energy that will keep fans listening to it again and again!
8/10