Reviews
MORBIDITY "Pits of Eternal Torment"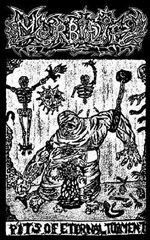 Imperium Productions – 2012 – Bangladesh
When I got hold of this new EP by the Bangladeshi Death Metallers Morbidity for review I was delighted because this is my third review of a Bangla band in as many weeks and I am completely stoked to see the talents that the country holds when it comes to extreme music.
'Pits of Eternal Torment' is the first release by the band and is somewhat of a buildup to what you can expect from their soon to be released FL/LP. The prophecy is clear. The band is here to slay you down with some ferocious, high octane and vicious dose of extreme 'Old School Death Metal' and boy, how misleading can the word OSDM be? Well, but not here as they are really true to the word! Old School indeed, their sound, much closely, resemblance the traces of the glorious era of the Swedish Death Metal, very raw and unpolished production wise (sounds like the whole Ep is recorded live inside a hall), the record is straight from the crypt of HELL.
The EP starts off with 'Morbidity', a straight cruel onslaught with some degree of grooviness intact; the track is a filthy dose of unadulterated madness that engulfs the mind for a hysterical ride of violent headbanging. The riffs and drums are vicious and are very traditional; great track to kick start the record.
The next track 'Let There Be Chaos' is another hard hitting blow, sounds as if the band is all set you break everything around them. A perfectly blended guitar solo with some equally over the top addictive riffs and the vocals it sounds just ruthless, a cacophonic guttural shredding some venomous ill feelings all along!
'Pits of Eternal Torment' is my personal fav from the EP. A chaotic piece of work, a job well done by the band. Razor sharp riffs and thunderous drums, technically not the most gifted players but the whole sound is just too profoundly evil that it just engulfs you in it.
The last track is an interesting cover, 'Killed By the Cross' by Nunslaughter. It shows the bands influence and the sound that they want to pursue. It's recorded during band's live show, so from it you can really imagine how the band will sound live. Very tight and brutal.
A highly and heavily recommended release, this EP is sure to satisfy you if you are tired of the whole 'CORE' thing going so magnificently around you these days. A must have if you follow the South-Asian Metal scene or any scene if that matters!
8.5/10