An audio sample of "Nevermore", the first single from "Illud Divinum Insanus", the long-awaited eighth studio album from Florida-based death metal veterans MORBID ANGEL, is available for streaming at
Amazon.com
.
The "Nevermore" single will be made available on May 16 as a digital download and seven-inch vinyl single. The B-side is an exclusive version of new song "Destructos Vs. The Earth", remixed by COMBICHRIST.
The cover artwork for the single was designed by French artists Valnoir and Fursy Teyssier for Metastazis.
"Illud Divinum Insanus" will be released on June 7 (one day earlier internationally) via Season of Mist. The cover artwork was designed by Gustavo Sazes.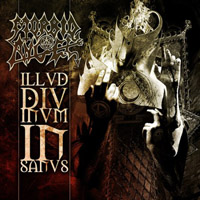 Tracklist:
01. Omni Potens
02. Too Extreme!
03. Existo Vulgoré
04. Blades for Baal
05. I Am Morbid
06. 10 More Dead
07. Destructos Vs. the Earth / Attack
08. Nevermore
09. Beauty Meets Beast
10. Radikult
11. Profundis – Mea Culpa