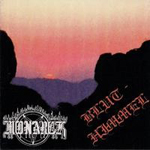 Self-released – 1999 – Germany
Recently I received knowing of a cd which was already published in 1999. Nevertheless I think it's worth to be reviewed nowadays. There is talk of MONARCH with his cd "Bluthimmel".
You can hear here Old School Black Metal. Dark and full of hate the listener is carried away in bizarre worlds of ice and darkness. After a spoken intro, which already presents the lyrical direction, it gets straight flat out! Raw, conscious kept simple riffs mingle with dark sound frameworkls to an omnious musical mass. Melodic parts strike up a symbiosis with impetuous tones which has an positive impact on the complete works. Thereby is conscious reounced of musical experiments in order not to blur the nativeness. "Bluthimmel" receives variety by the change of tempi within the mid tempo area. The lyrics are all written in German language which I personally see as an advantage. MONARCH is with "Bluthimmel" successful to create a strong piece of Old School Black Metal which is also in 2013 very hearable. Getting curious? You can now download "Bluthimmel" for free by clicking here.