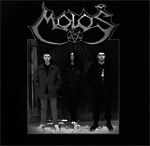 Self-released – 2012 – Serbia
There are five songs in the Old-School Thrash Metal style like bands such as Venom,Kreator and Sodom, and one cover of "Dreaming in Red" by the Swedish Death Metal band Dismember. All are done in a "shed production" and with aggressive playing.
The song "Mrak" (Darkness) attrected my attention with its devastating riffs and powerfull solo, this is their best song in my opinion (and I hope that they will put it on their upcoming EP).
The artwork for this release is enough for a demo release. The Picture of the members is with black and white effect. The logo is effortless and simple.
Not a bad "shed production" release from Serbia and all I see is young evil from the underground with bright future.
7/10