Reviews
MOLOCH "Isolation der Essenz"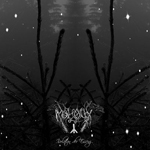 Sabbathid Records – 2010 – Ukraine
Moloch is a one man act who combines doom metal with dark ambience and atmosphere on his latest release, "Isolation der Essenz". Pr. Sergiy brings a very dream-like quality to his music with atmospheric guitar work and vocal style which changes back forth from spoken word to his woeful screams.
"Depressive Visionen eines sterbenden Horizonts" has the strongest amount of black metal riffing but if harsh and aggressive black metal is what you're looking for then you may be disappointed because he brings more of a sorrowful tint to his music more than anything. " Wenn der Herbsthimmel ergraut ist" is an instrumental track containing a hauntingly beautiful piano melody that will captivate the listener. Clocking in at over seven minutes, "Die Ietzten Strahlen der Sonne verblassen in der Kalte Apathie" shows Pr. at his most raw and passionate with his vocals, with somber guitar tone Pr. lets his screams come wailing out with furious intensity.
Pr. gives us more sorrowful piano which is one of the highlights for me on this album, it is so beautifully done and full emotion. Ending the album with the titletrack that's over twenty-five minutes long (yes, twenty-five minutes), it has you feeling like you've immersed yourself in a body of water or that you're floating around in outer space. The eerie electric ambience is actually quite soothing and relaxing, definitely quite a change from the previous tracks.
This is a complex and well done album that will capture you're attention. If you're looking for something that is dark but full of atmosphere then "Isolation der Essenz" is an album that needs to go in your collection.
9/10