News
MIST will release a new EP on May
Slovenian Doom Metal band MIST will release a new EP (cd/lmt.12″/digital) on May 8th though Soulseller Records. The 4-tracker entitled »Inan'« will include 3 new songs and one from the »Demo 2013«, recorded anew with the influence of the band's current lead guitarist, Blaž Tanšek.
MIST formed in July 2012, originally as an all-female band, and build their music on the legacy of legendary bands like Black Sabbath, Pentagram, Candlemass, Coven, Saint Vitus and others.
»Inan'« was recorded in the fall of 2014, produced, mixed and mastered by Benjamin Kic from BK Mastering. The brilliant cover art was created by drummer Mihaela Žitko.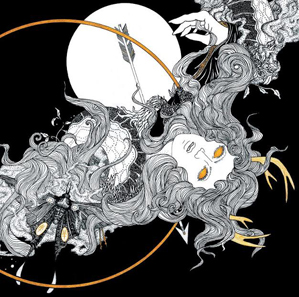 Tracklist:
1. Inan'
2. Frozen Velvet
3. Phobia
4. Under The Night Sky
Line-up:
Nina Spruk – lead vocals
Ema Babošek – rhythm guitar & backing vocals
Blaž Tanšek – lead guitar
Neža Pečan – bass
Mihaela Žitko – drums