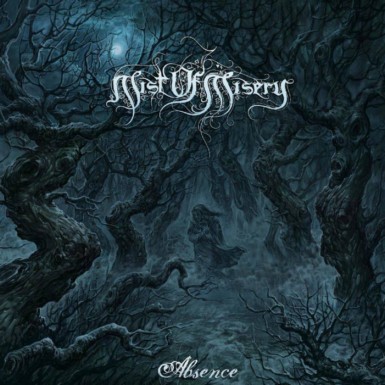 Black Lion Production -2016 -Sweden
The Swedish band MIST Of MISERY released in August 2016 their already second cd called "Absence". It is distributed by the label Black Lion Production.
The production initially starts very calm and sterling. A symphonic intro which gets along quite without any vocals resounds off my loudspeakers. But, at the second song "Euthanasia" at the latest the sympathetic listener knows where the musical journey will lead us here. Sheer Black Metal through and through. Thereby there are especially the silent tones which make this cd effective and infinite sad. By the use of doubleblast drumming and the emphatic growls of Motuz Denatus develop on the one hand hard and icecold melodies. On the other hand the melodic solis as well as the synthesizer insertions relativise hardness and give rise to a pretty morbid atmosphere. An extremely emotional and intense musical journey which goes deep inwards the soul. Calm without thrashing the all in all nine songs nevertheless take full effect. Little atmospheric Black Metal symphonies which are however doleful and morbid. Recorded with much blood, sweat and tears MIST OF MISERY show with "Absence" how Black Metal can sound like in the year 2016. Get yourselves into this unusual musical journey! It's worth it by all means!!!!
9,8/10