MISERATION have revealed the first new song entitled "Stepping Stone Agenda" taken from their upcoming third album "Tragedy Has Spoken". Click here to listen it.
Theory tells that tragedy is a form of drama based on human suffering that invokes in its audience an accompanying catharsis or pleasure in listening. MISERATION's newest album "Tragedy Has Spoken" follows this path musically and lyrically.
The cover artwork for "Tragedy Has Spoken" has been created by well-reputed artist Pär Olofsson (Immortal, Abysmal Dawn, Immolation, The Faceless).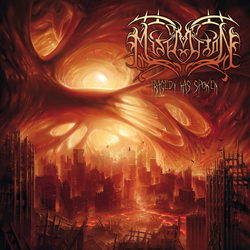 Tracklist:
01. Stepping Stone Agenda
02. Children Of The Flames
03. Ghost Barrier
04. Ciniphes
05. Hill Of The Poison Tre
06. Disaster Cage
07. On Wings Of Brimstone
08. White Light / Black Rain
09. Tomb Of Tephra
10. Waylayer
"Tragedy Has Spoken" is set to be released on the following dates and will be available on CD Digipak and Digital:
June 29th, 2012 (D/ AT/ CH + Digital)
July 2nd, 2012 (Europe)
July 3rd, 2012 (North America)
July 4th, 2012 (Scandinavia)