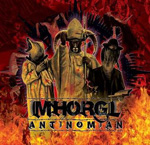 Independent – 2010 – Australia
I met drummer Louis Rando in the band's concert in Ankara who played in Nervecell at the end of May and he gave me this album as a present. He played in thrash band Shrapnel about which I wrote a review and in Mhorgl.
Mhorgl's second full-length album Antinomian is a digipack which was released on their own without a label. I adore digipackes! Album's recording quality and production are very successful.
The band makes black metal. Melodic riffs and unsteady sound of drum make you feel like as if you were listening Emperor and Dissection. Also it can be said that the sound of the band is the modernized one of Darkthrone's, Gorgoroth's and Bathory's.
This is an agressive album which gives no concession in the name of black metal. Ferocious scream vocal, structre of the songs.. everything in this album is satisfactory enough for black metal listeners.
There is a Darkthrone tribute song in the album "Necrohatred" and the band made a cover of Ozzy Osbourne's Mr. Crowley. The cover is perfect in terms of my cover taste, it was fully rearranged by the band in their own sound, I really appreciate it.
I've gotten an album which I can frequently get out of my archive and listen, I recommend it.
9/10