Reviews
MEMBRO GENITALI BEFURCATOR "Human Destruction"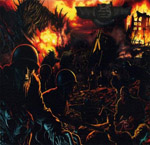 Coyote Records – 2010 – Russia
Membro Genital Befurcator is a succesfull band who was founded in Russia and play amazing and impressive mid tempo brutal death metal / grindcore. The album is released by one of the biggest company of Russia Coyote in May and is second production of the band. I listen the band thanks to the promo that was sent to me.
There are 9 songs in the albüm and like all the usual grindcores it has 31 minutes. The most important reason that I listen carefully the band is in ''Approach Of The Enemy'' song, they have Batu (Cenotaph) as vocalist. That was a good cooperation. I would like to congrulate them for their choose. To me, Batu is one of the most important grind vocalist in the World. Also Motorhead cover, Hellraiser draw attention in this albüm for me. Listening this song in a sound was very interesting and fun. Ana an Obituary song, Solid state put in an appearence in this albüm. Band has its own great works. On the other hand the other nice songs are 'Crisis Of Our Generation'' and ''The Punishment Zombie Squad''.
Lately, there has been a lot of great bands, that's for sure. Especially they are improving in brutal death and grindcore. Thanks to the companies such as Coyote Records we can explore these kind of bands. Membro Genital Befurcator has been in this sector for five years and they hit the top.
9/10