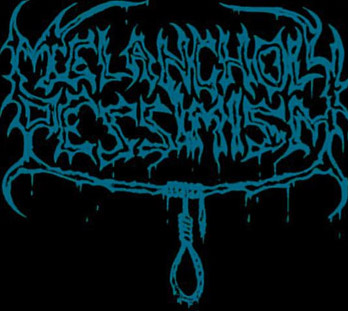 You have been one of the best in Death Metal scene for 18 years. If you look at behind, do you think that you are in a place that you deserve?
Vlasta Killy Mahdal (Vocals): Firstly, I have to say that we have been always playing for pleasure and our love for Metal. We are and will rot in underground forever. I can't imagine Melancholy Pessimism as crossing all the world on a really big and long tours and just play and sale records. All the band members who play with Melancholy Pessimism have regular jobs, families and then it's very hard just do a tours and earn money from music nowadays.Secondly, we don't want to be a part of the sick music business and slaves of any music label. We do music as a hobby and expression of our feelings. That's something like therapy for us.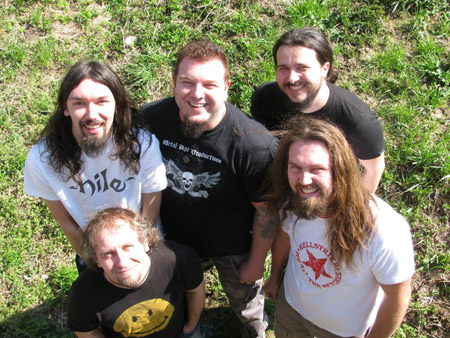 When I look at your discography, there are six album in 14 years. What was the 6-year-waiting-period for after "Dreamkillers" album?
I had some really big financial troubles and I needed to sort it. That's why MP didn't work. I've worked and saved money in The UK, same like in The USA and New Zealand years before. The reason for the long break was my shitty life and problems which I've fixed with hard work abroad.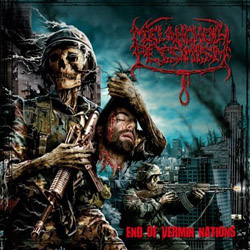 I like "Soul Parasite" from your last album the most. It is beginning with a progressive intro, by the way I was unaware and I hit the volume upper and upper unwittingly then suddenly guttural vocal came in and I felt Melancholy Pessimism deeply. J Everyone was expecting your last album "End of Vermin Nations" for a long time. How was the development process of the album?
Hahaha…that's funny. Sorry for that bro…..
When I came back to The Czech Republic in 2008, I immediately looked for musicians for MP. I was talking to a lot of people and met a few ex- MP members. Two guys, former guitarist and drummer were interested in playing in our band again, so we started practising straight away. Then we've played a first gig and we were happy to stay on a stage and to be on scene again…..and the crowd was crazy and happy as well. Afterwords we started with writing the new songs and also contacted Metal Age Productions if they are interested in the new album release. They agreed and we sign the contract with them, went to Shaark Studios and recorded this killer.
Have album get the expected attention? How is the reactions?
Definetely yes. We have a lot of fans during our 18 years existence and they are happy we are back again. The new CD has really positive reactions and reviews. Thanks to all for this. To be honest our aim was to record the best album what ever MP recorded and I hope we did it.
The Czech Republic is pride of Europe in Death/Grind Metal music scene. But lately, there haven't been much qualified names on the arena. Do you agree? What is the reason of that?

I know what you mean. We are just a small country and if you wanna be succesful and earn money for living you have to get good job or work really hard. Then it's not time for
playing in a band and do the tours etc. That's probably why we don't have really big bands here in The Czech Republic and the post communist countries although they are so many great of them there. It's easier to do a career or go abroad and make money for life and the future. Not so many young guys want to spend a long time in a practice room and play just gigs for petrol nowadays like we did in the past. MP, Hypnos and Disfigured Corpse are back again, Fleshless, Pandemia,Pigsty are still here and a few more. You would find a couple of pretty good bands of course, but the old veterans roll them always over on the stage. hahaha
They say Death Metal has dead since 90's. Your best answer is your music actually. But is there anything you would like to say about that?
I would agree what you said already, the music is the answer. Well, this style has never been any mainstreem music style. But it's truth the biggest boom of Death Metal was in early 90's because it was a new style in Metal and people like and want samething new mostly.
Look at the newish groups nowadays. Despised Icon, Origin, Beneath The Massacre, Dying Fetus, Gojira and more like them are here and get same success like the pioneers as Napalm Death, Obituary or Pestilence for example and pushed the Death Metal to different waters.
Death Metal is not dead but, and I'm happy to say – still keeps in progress.
How are you composing your songs?
Nothing special probably. Me and Rich (guitarist) meet each other at home usually, where we compose and play some ideas and riffs. Then we put more melodies and riffs by how we feel it. That's like a cooking…just add more spices to the pot. Sometimes it's shit and we have to chuck it to rubbish bin but mostly we love it and it's luscious. 🙂 🙂 🙂
To me, your best albums are " Global Terrorization" and " Evil Planet". Well, which album does stand out in discography? Which one is the most liked?
I like all the records what we recorded. We also play songs from all of them alive. Some old school fans like the first one, the others Evil Planet….or the last one. Every man has a different choice and taste.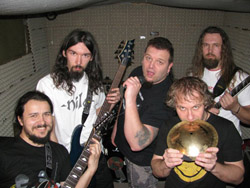 How is the Money situation? Can you make a living with your music?
No, definitely not. We work the regular jobs….we are just a big Metal fans what play a gigs and record albums. 🙂
Will there be any concert soon?
We play 2-4 gigs a month here in The Czech and Slovak Republic but if you find a few gigs for us in Turkey and pay us for expense, get some sleep and transport we are going there. No problem. We would enjoy the sightseeing and your fans certainly….just dreaming about it. 🙂
Who was the best band you had a concert together?
Hard to say, but probably Napalm Death, Kataklysm, Avulsed and Dead Infection.
I want to ask this question badly. In Death Metal, America or North Europe?
Anglo – American Death Metal. 🙂 🙂 🙂
Which one would you choose: Cannibal Corpse – Napalm Death – Morbid Angel
ND are good guys and play great music like Morbid Angel. We love them both….but Cannibals are not so bad as well. 🙂
Which bands are the best in Czech Metal scene?
I can't say just one band because they are quite a few of them. I personaly like Psychotic Despair, Pigsty, Isacaarum, Ingrowing, Nullus Sum, Tortharry and Fleshless if we talk about Death Metal.
Who do you listen on different music genres?
I really like too many music styles so I like such old pop music like Boney M or ABBA, as funky, traditional or classical music, jazz or whatever what sounds like music played on musical instruments.
I don't really like the electronic music what sounds like a computer music, and rap or hip hop.
Have you seen Turkey? There is a great listener crowd here. Have you heard about it?
Unfortunately I haven't seen Turkey yet but wish to go there for holiday sometimes. I've seen a bit of this world and Turkey is one of my destination where I want to go because I like really history and your country is one of the top from old cultures or civilisations. So hopefully see you in Turkey maybe next year. 🙂
Thanks a lot for your time again. İs there anything else you would like to say?
We really appreciate every Metalhead who likes and listen Melancholy Pessimim and we are so glad for fans in Turkey as this interview for you. Thank you very much. Love and peace.
www.myspace.com/melancholypessimism