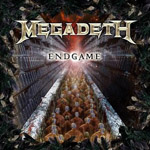 Roadrunner Records – 2009 – USA
Forgive this reviewer for quoting Michael Jackson, but this is it. THIS IS IT…this-is-it. The best Megadeth album since the band's early 90's output. Perhaps their best ever. And no, we aren't drawing comparisons with "Youthanasia" here. This "Endgame" from Mustaine and whatever lineup is following his lead (and you better believe it, the album is loaded with smokin' leads) is eleven songs that harken to the glory days of the classic "Rust In Peace," 1988's "So Far, So Good…So What?" and the streamlined "Countdown to Extinction." In short: the good stuff.
The ride starts with a bombastic instrumental that hasn't been part of Megadeth's ouevre since "So Far, So Good…" some 20 odd years ago. "Dialectical Chaos" erupts into three minutes of blistering guitar play between Mustaine and his latest counterpart, Chris Broderick, who made a name for himself with stints in Jag Panzer and Nevermore. But it isn't until the menacing tempo of "This Day We Fight!" that the band prove they can bring their game to the same level, in terms of aggresion and energy, as today's crop of metal bands (i.e., God Forbid, Archenemy). The lyrical venom in this song hasn't been heard since Mustaine's worst heroin days.
Then there's "44 Minutes" which tells of a bank heist gone awry in L.A. that's followed by the speedy, NASCAR inspired "1,320." What makes the album such a winner so far is that, four tracks deep, the filler hasn't arrived yet, whilst the last couple of Megadeth albums were plagued by lackluster tracks. Not "Endgame." Filled with Mustaine's songwriting genius and infectious choruses plus serious guiatr shredding madness in the same leauge as "Rust In Peace." "Bite The Hand That Feeds," "Endgame," and "Headcrusher" bring on the mind boggling decibels . On this album's token 'ballad' "The Hardest Part of Letting Go…" Mustaine weaves an emotional tale of unrequited love. You're just glad he didn't rehash "A Tout Le Monde" for a third time.
The stars have aligned. The gods have spoken. Kanye West has already declared this the greatest speed metal album of all time. With "Endgame" Dave Mustaine has cemented his rightful place next to Metallica, Slayer, Testament, and Exodus. (Where's Anthrax?) It wouldn't be too much to have him declared the President of Heavy Metal, would it? Not kidding now: THIS IS IT.
9/10