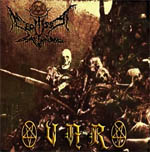 Qalaqas Black Art Productions – 2012 – Malaysia
The Malaysian Metal underground is alive! The latest proof of it is the band MEDUSSA SAFANNAH which is since 2007 already musically active. Hereby it is about a studio recording of the band which is called "Var".
What does my ears hear here? Old School Black Metal. Dark and raw like in its origins. Pitch-black, kept simple riffs which fit well in the icecold frameworks of the songs. Supported by powerful drum lines MEDUSSA SAFANNAH go flat out here! The distinctive growls brilliantly fit in the entire frame. But, here a degree of melody may not fail, too. Altogether it results in a dark symbiosis which make the independence and complexity of the all in all five songs (The bonus song "One Shall Never See" inclusive) clearly visible. The primordial live character of the songs is worked out here very nice. A strong piece of Metal which definitely whets your appetite!!!