Hails Manic Disease. You formed up the band in 2008 as black/thrash in Innsbruck,Austria.How have you met eachother and decided to start a band?
Hails! The Band was formed as a pure thrash band in 2008 by Persekutor,Doomed Desolator and Deathraiser. The first two knew each other from childhood, whilst persekutor knew Deathraiser from school. They started to do rehearsals in summer and found their first singer in a metal pub, who later came up with a bass plaayer and so on. After a few line up changes the band had developed their sound and was now a trio again. We recorded a live gig which we released on the "Live Necromancy" tape and shortly after the first studiorecording "Beyound cosmic boundaries".
Again shortly after that Leatherdemon joined the band once again and completed the line up doing vocals.
Where are all the members originally from? Are you all living in the same provinces?
Except of Leatherdemon we all come from Innsbruck/Tirol or at least a village close to it. Leatherdemon is originally from Lukavac in Bosnia,but now lives close to Innsbruck for already quite a bit of years.
Can you tell me a bit about your discography?
As i've told before we have two releases on Tape by now are 'Live Necromancy' and 'Beyound Cosmic Boundaries'. The Live tape is already sold out being limited to 150 handnumbered copies and the second one is about to be sold out too soon, having already sold about 300.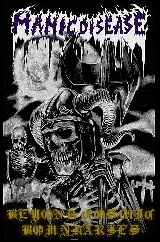 What are your main influences on your lyrics?
Persekutor is mainly influenced by themes of horror and the occult. He tooks inspiration from movies and books. Bekim's lyrics are very much influenced by life expieriences such as the war and he also writes about "metal-Cult".
Are you currently working on an upcoming release?
We are planning to release some new Studio tracks, most likely as a split for which we are looking for bands to join but even Labels or distros to support us!We have already a few songs for it and work on more.
Who've done the artworks?
The Logo was made by a friend of our singer,his page on facebook is called Misanthrone Graphics.On this way thanks a lot again for support!! On live necromancy we used an old paint from gustavo dore and on the second tape we had some artwork from Halseycaust(who did already artwork for Toxic holocaust and many more)
Layout we did ourselvey and the new Pictures where taken from a friend Gabriela Lukasser photoart,thanks a lot to her too!!!
Can you give some information about the agreement with Coffin Slave? You were supported by Destruktion Records earlier. What was the reason of the change?
The agreement with coffin slave is not really done yet as we still didnt receive any answer from Hushy. So If you read this Hushy, fucking hurry up, we are on a rush!!!
For all the others: we are still looking for a Label which is able to carry on our way. We owe a lot to Destruktion records, he really supported us a lot and still does! without him we maybe didnt succed to spread our music that far and fast!! (Thanks to him too, you rule!)
Have you ever had a tour with the band? If not,any other tour plans in future?
We just had single gigs until now, but we plan to do a small tour in Ex-yugoslavia in summer. Besides that we would like to play in germany or holland too, but we depend on the metalheads there, as they have to organise gigs and invite us! We play for food/drinks and accomodation. also some money for travelling or petrol would be great, especially for more far destinations.
Do the members have any other bands or side projects?
Persekutor has some other projects. His black metal project Circle Of Shadows and his (blackened) heavy metal project Cursed Midnight.
Are you planning to have a split with another band?
Definitely,because it's always cool to work with other bands and i think its a great thing for both bands to be able to reach more poeple,what we think you definitely do with a split.
Thanks for the interview. Total Support!
We thank you and the readers for their support!! Keep supporting heavy metal!