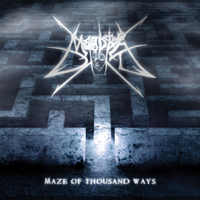 Montreal's MAGISTER DIXIT will be releasing its 4th full length album on PRC MUSIC in April of 2013.
The new album, entitled "Maze of Thousand Ways", is the epitome of MAGISTER DIXIT's already impressive discography. This 4th album is darker, more brutal and epic.
Melodic, yet still very brutal, this new album will bring you back to the good old days of the Scandinavian black Metal movement (EMPEROR, MARDUK, SATYRICON, MORK GRYNING) as well as to classic material from ABIGOR and NOKTURNAL MORTUM.
"Maze of Thousand Ways" will be available in Canadian stores on April 16 2013.