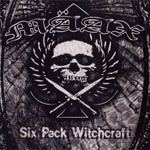 Abyss Records – 2010 – USA
American Maax band's this EP is like a promo before their album. In this EP gives a combination of 80s thrash metal and today's black metal, you know this is common nowadays. After I listened to "Die By The Ax" song, I thought all the album would be very good, not only the song. But I felt disappointment. I was looking for a freaking song after an intro like this.
Actually, album isn't so good but their sound isn't as good as the other bands of the genre… But still, you should give them a chance. Double guitar performance is very good for the band.
Taking a look at the album cover, this is more simple than "Dawnbringer" cover. It doesn't seem to be paid attention. I hope that won't be a disappointment next time. I liked the song called "Go Fuck Yourself", name is an American slang 🙂 Old head thrash metal influenced black metal… If you like this, I suggest that album. But if you say 'Don't like it, but willing to give it a shot', then stay away from this album.
6.5/10