Blood Music is extremely proud to present to its roster – Lychgate!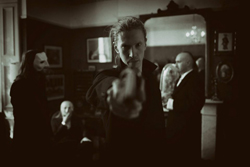 The academic, apocalyptic black metal unit will premiere its sophomore masterwork – "An Antidote for the Glass Pill" – on deluxe vinyl, CD, and digital formats through us in early 2015. Taking two painstaking years to execute, the seminal work is vast in concept and light years beyond the band's already well-acclaimed debut.
"An Antidote …" is the ceremonial, liturgical brother of Esoteric and features Greg Chandler (Esoteric's frontman and founding member) on guitar, vocals, and engineering duties. The record is also perhaps the only black metal album in history that features full accompaniment by a professional church pipe organist throughout.
We've been tracking the progress of this album from raw demos to polished finale and can attest that this was an incredible labor-of-love and also a work of painstaking genius. This is the rare kind of album that will actually give you goosebumps.
A premiere of the track "Letter XIX" below: