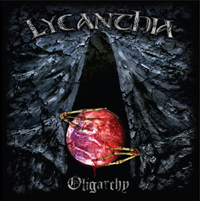 The track 'Time Feeds this Wound' from Lycanthia's upcoming album 'Oligarchy' has now been made available for streaming and free download. This is now the third song to be made available from the Oligarchy album. The release date for this album is fast approaching as well, and next sunday on April 7th, the album will be released in digipack format and also available for free streaming in its entirety on the
Hypnotic Dirge bandcamp
.
For now though, Oligarchy is available to pre-order, and anyone who pre-orders the album will receive a download link immediately while they wait for their CD to arrive.
Formed in 1996, Lycanthia carries with them a history spanning 17 years and are one of Australia's oldest surviving doom metal bands.
A six piece band hailing from Sydney, Lycanthia plays traditional gothic death-doom metal with a strong emphasis on atmosphere, melody, and the captivating use of alternating male growls and female soprano vocals. Comparisons could be drawn between Lycanthia and the sound found in the early "golden age" works of classic gothic doom bands such as My Dying Bride, Paradise Lost, Draconian, and Theatre of Tragedy.
A flagship of this particular sound is the contrast between dark, aggressive, and heavy death-doom and softer moments courtesy of female vocals, keyboards, and violin arrangements and Lycanthia does this extraordinarily well. The growls courtesy of founding member and bassist Lee Tassaker is a definite strong point of the album, and he's accompanied very nicely with the poignant female vocals from both the violinist and keyboardist, Vanessa Black and Megan Tassaker respectively.
The vocal work is complimented nicely by six very competent musicians all working towards a heavy, despairing, and powerfully melancholic sound and a production quality that does the songwriting justice. Mastered by Jens Bogren at Fascination Street Studios (Opeth, Katatonia), the re-release of Oligarchy on Hypnotic Dirge comes in a digipack format with an 8 page foldout booklet.
Lycanthia is currently on a dual album launch east coast Australian tour alongside Subterranean Disposition, another doom outfit from Hypnotic Dirge Records who recently released their debut album. There are still two dates on the tour remaining in April so if you are in the area, be sure to make an appearance and enjoy a night of doom!