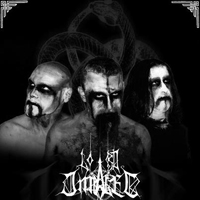 LORD IMPALER are proud to unleash a new blasphemy unto the world. "BABYLON WHORE" is planned for release in June 23, 2013 as a digital EP (available through the
official Lord Impaler Bandcamp page
) and as a split-CDR with the elite Hellenic black metal act ATHOS.
"BABYLON WHORE" contains 2 tracks from the upcoming second album of the band. It was recorded between January and March 2013 by Lord Impaler, except drums, performed by George Trakas (Mass Infection), engineered and recorded during March 2013 by George Stournaras at Infected_Studios. "BABYLON WHORE" was mixed and mastered between March and May 2013 by George Stournaras.
The band comments on this release "We are very excited about it. We have been working on this material for months and making it available to our friends and followers just feels great. This is just a small taste of what we have in store next!".
"Whenever we talked with Kerveros (Athos), the possibility of making a split release would always surface." adds vocalist Tragon, "This time it came into fruition".
Lord Impaler is a melodic black metal band from Kastoria, Greece. The band recently added a new drummer into their ranks and is currently further developing their second album.