Italian super group featuring Marianna Alfieri (Kirlian Camera, Spectra Paris, Dark Lunacy), Gregorio Ferrarese (The Modern Age Slavery), Elena Alice Fossi (Kirlian Camera, Spectra Paris), Fabio Palombi (Nerve, Ritual of Rebirth) has signed a publishing deal with Wormholedeath/Dreamcell11/Aural Music Group.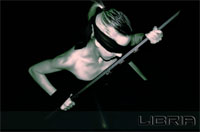 Wormholedeath/Dreamcell11 will release their debut album titled "Immortal daughter of aesthetics" world-wide through Aural Music Group. Release date is due during 2013 still to be scheduled.
Marianna Alfieri stated: «"This is the first album I composed by myself and I'm very pleased to collaborate with Wormholedeath for its release. I'm very excited about the chance to spread my music with the help of friends of Wormholedeath. The team is experienced and professional and I'm sure that joining our forces will give Libria many opportunities through the great Wormholedeath network".»
Wormholedeath A&R "WORM" stated: "Leaving apart the true respect and admiration I feel for Marianna as a person and musician, when I listened to this album I wanted to support her project mainly for the potential of the album and Libria as a project itself. Immortal daughter of aesthetics is a powerful mix of melodic death metal, with an outstanding guitar work and majestic symphonic passages, lacerated by the dramatic vocals of Fabio Palombi. Furthermore the album features the guest appearance of Elena Alice Fossi (Kirlian Camera) and Alessia Cavalieri (Spectra Paris) on vocals and Francesca Dardani on violin. Nowadays Libria also features my friend monster drummer Gregorio Ferrarese. Look away from the lighthouse, and follow the stars!""
The original idea of LIBRIA was inspired by "Equilibrium", a Kurt Wimmer's film (2002). Libria is a city-state based on a strong absolute power, controlling the mind of people by the mean of Prozium, a drug which suppresses emotions. The "peace" and control obtained in this way is not so different from the way our society tries to keep us blind and deaf to the awareness of Truth. Our soul can be rescued by detaching from physical senses, and increasing the power of our mind, with strong discipline and will, without any drugs, just relying on our own mental forces. From these principles and ranging over reflections about death, life, spiritual growing and esoteric studies, the whole concept of Libria was born.