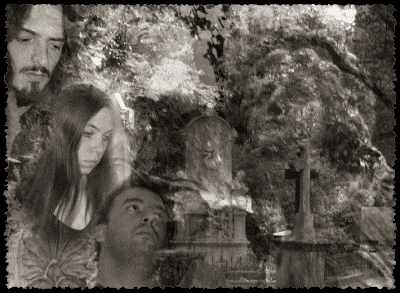 Hi Carline…How are you? How is everything over there? What's new on the
side of Lethian Dreams?
Hello! I'm fine thank you. We are recording the first album of Lethian Dreams at the moment, 3 songs have been recorded so far. When the recording is finished we'll be searching for a label to release the album.
Lets talk about your upcoming album…What will we see? Could you please tell us….
Nothing is sure about how many songs will feature on the album… it might be 5 or 6 tracks… There will be one taken from our very first demo "Mournful Whispers" (the song which was called Mournful Whispers is now called "Under her Wings"; you can hear a sample on our website) and there will also be "For a Brighter Death" taken from the "Lost in Grief" demo and maybe another one from the same demo again. The other tracks will be new material.
Lethian Dreams is one of my favourite band…The band is well-known after "Lost In Grief" release….Some of your songs placed in complations and etc..Will your new material continue this success?
Thank you! It's flattering to know that Lethian Dreams is one of your favourite band! I hope people will appreciate our new material, we are very proud of our new songs actually. We are also very impatient to show our new material to people who liked the 2 first demos. That's why we've put "In Seclusion" for full download on our site; we wanted to have feedback and show people that we are not dead, even if we take long to record our CD.
After releasing the new album i think you will have some stages…What's next?
We will indeed make some concerts when the album is released… then I guess we (Matthieu and I) will focus on the next Remembrance's album (cause it's difficult to work on Lethian Dreams and Remembrance at the same time) and then we will start new songs for Lethian Dreams but again we will take our time, cause we wanna be totally satisfied with the result.
The atmosphere of your music is so sorrowful…How do you keep this feeling inside? How do you feed this atmosphere?
It's a difficult question to answer… Personally I think writing music and lyrics is something that is very relieving – because you express what you feel inside.
I also love sad music, I like to be overwhelmed by emotions.
What's the main problem of the members that you have added and then have sent them?For example,In january 2005,2 members joined and in June 2005 they left the band…Then Carlos D'Agua joined the band….
We had problems in Lethian Dreams mostly due to the distance between the band members, Matthieu and I live in northern France and the other members live in Paris. It was impossible to go on this way cause rehearsing in Paris tended to be more and more difficult and expensive; we were finally stuck in the process of recording the album. We decided to continue the recording with Matthieu and I. Carlos D'Agua joined the band as singer but we work together through the Internet for the recording, it works really well.
As having some side projects and especially another well-known band "Remembrance"…How do you cope with that? Cause it takes lots of time having some side projects…
Yes it does take a lot of time, but we love making music. We usually focus on one band at a time for writing songs. When we have ideas for Remembrance while we are working on Lethian Dreams, we record those ideas very quickly and we work deeper on them later.
Lethian Dreams has some similarities that you will find in Remembrance, but it's also very different, the emotions in the music are different. Lethian Dreams' music carries sadness in an ethereal way, using more female vocals and weeping vocals, Remembrance's music is darker, colder.
Being from French metal scene, how do you feel about that? Do you think that you get what you give? And also for your world wide distribution…Do you think that your art easily reaches to your fans?
I can't answer this question right now because we only released 2 demos by ourselves, so we had of course no worldwide distribution. I think being from France isn't a problem when you have a label that can distribute you worldwide, for example we are really well distributed with Remembrance.
About Turkey…What do you know? I know that Anil (Dahlia's Tear / Dimness Through Infinity) is one of your friend and you worked with him….What do you think of Turkish bands?
Yes, Anil is a friend, I made vocals for one song on his side-project, Dahlia's Tear. I unfortunately don't know a lot of Turkish bands, only Dimness Through Infinity come to my mind right now and I love their music – I can't wait to hear their second album. I would be glad to discover more Turkish bands though.
Dahlia's Tear is a good band I must say….And your voice feeded the material….What can you say about that?
Thank you, I'm very glad to feature on one song from the Dahlia's Tear album. It was a very nice experience, and something very different from what I do normally in music. I like a lot the atmosphere Anil created in Dahlia's Tear, and I hope working again with him in the future.
Personally how is your relationship with the members of the band?
We always had good relationship with the band members, we still have contacts with the members who left.
What do you want to say to your Turkish fans…
I've heard Anathema is very popular in Turkey and have amounts of Turkish fans coming to their shows, I think it is great. I hope we will have the opportunity to play over there some time in the future.
And last…. Thanks a lot for your support and for this interview, it was nice to answer your questions. Good luck to Sorrowful Tears and to your webzine!
Don't hesitate to visit our website www.lethiandreams.com
Thank you Carline…Nice talking…Good luck and keep your art at the top…..