Belgian grindcore act LENG TCH'E will release its new album, "Hypomanic", in Europe on May 24 and in North America on June 8 via Season of Mist. The CD was recorded at Parlour Studio in Kettering, United Kingdom with producer Russ Russell.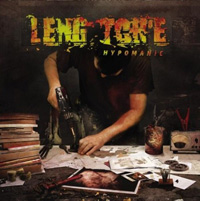 Tracklist:
01. Wirehead Imbeciles
02. A.men
03. The Stockholm Malevolence Project
04. World State Abomination
05. Refined Torture
06. Misleading Innuendos
07. Obiter Dicta
08. Death's Head Cockroach
09. Totalitarian
10. Anthropocentric Suicide
11. Silence Is Better Than Unmeaning Words
12. Violence Does Even Justice
13. Corrosive Rotgut
14. Perfervid Odyssey
The song "Wirehead Imbeciles" is available for streaming on the band's MySpace page.