"Need to Suffer", the fourth full-length album from Spanish thrash metallers LEGEN BELTZA, will be released on April/May. The CD was recorded at bands own studios, mixed and mastered by German engineer Andy Classen.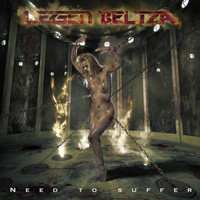 Tracklist:
01.Vaporized
02.Deathpidemic
03.Midnight meat train
04.Adan's children
05.Suicide
06.Church burning
07.Death control
08.Mutants from the red hill
09.Global dictatorship
10.Amaierarik ez da
Two songs called "Deathpidemic" and "Global Dictatorship" are available in bands Myspace page, www.myspace.com/legenbeltza
Photos of the recording session available here.
Last song is an instrumental song and includes a guest solo from both Angelus Apatrida guitarrists, band that recentrly signed by Century Media label.